What to Do If You Cannot Run Microsoft Malicious Software Removal Tool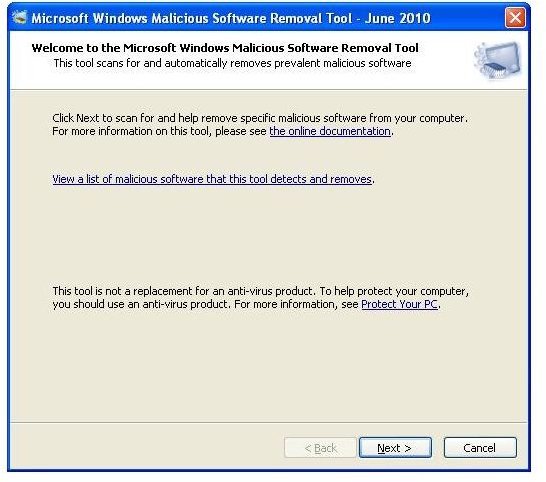 Install Microsoft Malicious Software Removal Tool
The Microsoft Malicious Software Removal Tool is released with Windows updates once a month. Once the update installs the tool it runs a scan automatically "behind the scenes." It downloads the software each month and runs a scan each time.
You can download the software manually if you would like.
Go to the Microsoft website and download the software. Click the Download button and choose Save. When it finishes downloading find the installation file (where you saved it) and click on it. Click Next.
Choose Quick Scan, Full Scan or Customized Scan. Quick scan scans the areas of your system where spyware is mostly likely to reside. A Full Scan scans every file on your system and Customized Scan does a Quick Scan and certain folders that you specify. Click Next and a scan will start running. A bar in the middle will show you the progress of the scan.
When it finishes if you have spyware it will show you the files to remove. If it does not find any spyware click Finish.
You May Already Be Infected
If you are currently infected with spyware this can cause problems running the Microsoft Malicious Software Removal Tool.
Malwarebytes is a great spyware removal software. Run a scan with Malwarebytes and if it finds spyware on your computer, remove it and try to run the Microsoft Malicious Software Removal tool again.
Other Things to Try
Safe Mode
Sometimes if there is a problem installing or running software, it will work in safe mode. It is recommended to run spyware scans and virus scans in Safe Mode each time you run them. Boot into Safe Mode and try to run the removal tool. If it works run the software then when finished reboot your computer and boot up normally.
Administrator Rights
Let's make sure you are running this software with Administrator rights. Click Start and type MRT in the search box. You should find Microsoft Removal tool at the top of the list. Right click on it and select Run as Admin.
Run Disk Cleanup:
Click Start and All Programs. Select Accessories, System Tools, and Disk Cleanup.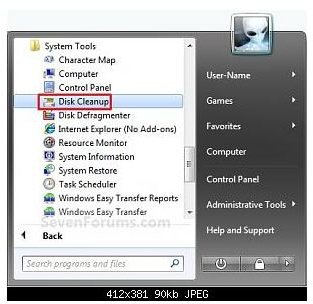 Select the drive you want to use Disk Cleanup on and click on OK. Check the type of files box that you want to delete, and click OK. Click on the Delete Files button.
The files will be deleted and Disk Cleanup will close.
Repair Windows System Files
Sometimes system files can become corrupt or damaged and a small process fixes these files. The process is called sfc /scannow. Even if you don't have any corrupted or damaged system files this scan will not hurt anything. This has been known to fix many computer problems. We had a problem with one of our computers and we worked on it for an hour to no avail. We then remembered sfc /scannow and guess what? If you haven't guess yet it fixed our problem. Let's give it a try and see if it helps yours.
Click Start and in the search box type cmd. Right click on cmd (shown at the top) and select Run as administrator. In the window that opens type sfc /scannow at the command prompt and press enter. This process takes some time to run so you've got time to get away from that computer for a while. When the scan finishes it will show you a report and if it fixed any files, it will list those. Type exit at the command prompt or click the X in the corner to close.