Where to Find Free Help With Microsoft Access

Getting Started
When you set out to get free help with Microsoft Access, you should first learn what version of the program you have installed on your computer. Although the principles of operation within Microsoft Access are similar with each version of the program, you will notice that the appearance and layout of the screens vary and some features discussed in tutorials and troubleshooting tips may not apply to older versions that do not support them.
Some of the screen shots included here are from Microsoft Office Access 2007 while others are form Web sites that may show other versions.
The information included here is for reference only. The Web sites listed below are maintained by independent entities which have no relation to the author of this article. The inclusion of these sites in this article do not indicate an endorsement of the content included therein, nor does it imply or infer any type of warranty or support. Should you have any questions concerning these sites, please contact the administrator of the site in question.
Microsoft Access Help
Perhaps the first place to look for free help with Microsoft Access is the Microsoft Access help system. To get there, click on the circular question mark icon in the main program window.
After this, a window will appear that has a search field that you can look for information about the problem you are having with access or the function or feature you are trying to use.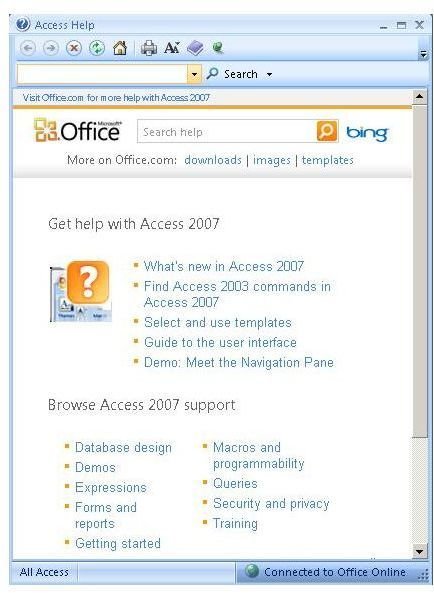 You will also find links that will give you lessons on database design, demos of Access features, special hints for beginners, as well as lessons on particular aspects of Microsoft Access.
Image Credits: Screenshots taken by Bruce Tyson.
Microsoft Technet
More free help with Microsoft Access is available from the Microsoft TechNet Web site. All you have to do is type "Microsoft Access" into the search field an you will see tons of articles that you may find helpful as you work in Microsoft Access.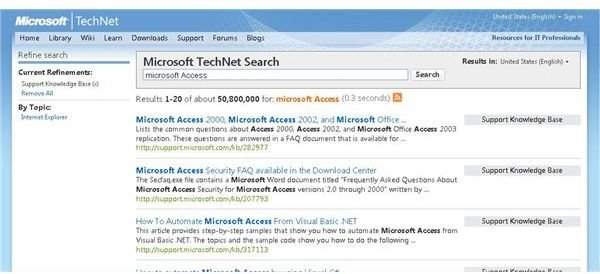 If you have a specific problem, you may want to make a more specific search that will reduce the time you spend browsing through the site.
Image Credits: Screenshots taken by Bruce Tyson.
Richard Holowczack Access Tutorials
A great place to get free help with Microsoft Access is from the Web site of a New York City University professor by the name of Richard Holowczak. This Web site holds a wealth of information about Microsoft Access 97 and 2000. A companion site contains similar educational information for Microsoft Access 2007. From a basic introduction to and orderly dissertation on the use of tables, queries, forms, and reports. Whether you need to start from the very beginning or just find some basic help, this Web site is the place to which you should turn first.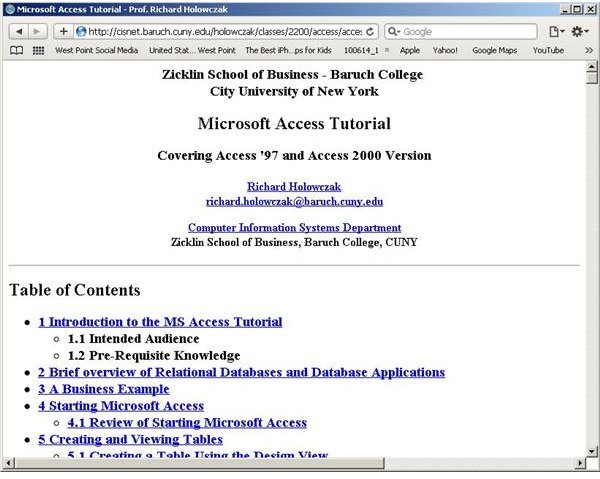 Image Credits: Screenshots taken by Bruce Tyson.
Allen Browne's Database and Training
To get free help with Microsoft Access, another superb Web site to visit is the one by Allen Browne. This site breaks down help into that which is suited for casual Microsoft Access users, serious users, and for programmers. Here you can learn all about tables, validation rules, expressions, forms, and reports. Helpful tips, advice, and instructions are on the site including a full tutorial that includes 8 PDF documents and five videos.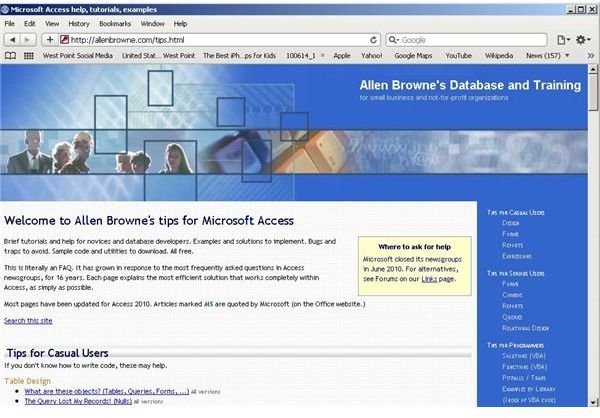 Image Credits: Screenshots taken by Bruce Tyson.