Help for an Office 2010 Activation Error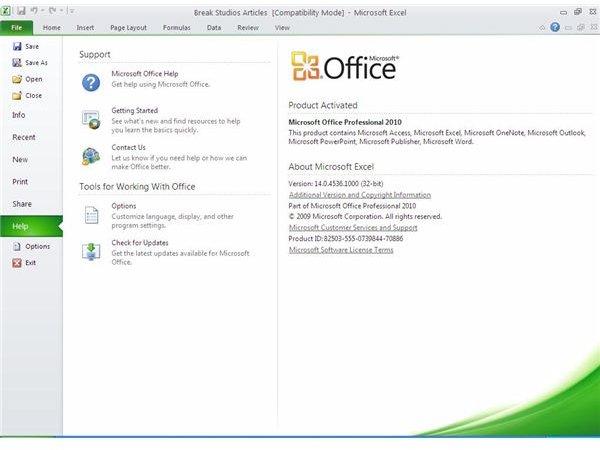 Enter Product Key
When you purchase Office 2010, your product key is either emailed to you if you downloaded it or on the confirmation page if you purchased it from a store.
Let's make sure you are doing it correctly before we start troubleshooting.
Open Outlook 2010 and click the File tab. This will open Backstage view.
Click on Help that is located on the left.
Look on the right side and click Change Product Key.
Enter the key that was provided to you when you downloaded Office 2010. Verify the activation key is correct. This is a long number and it is very easy to type it in incorrectly.
Check the Activate Automatically box. Restart Office 2010 by closing it and opening it back up.
Once you are back in Office, click on the File tab and click Help. On the right side, it should say Product Activated.
If everything has gone according to plan, your Office 2010 is activated. No? Then read on for more help.
Activate Through the Control Panel
Sometimes if the traditional way does not work, try something else. You can try to activate Office 2010 through the Control Panel.
Click Start and select Control Panel.
Click Program and Programs and Features.
Click on Office 2010 product and click Change.
The setup dialog window will open. Select Enter a Product Key and click Continue. Enter the product key to activate Microsoft Office 2010 and go through the onscreen instructions.
Open Microsoft Office.
Click File then Help. Look on the right side to make sure it says Product Activated.
Activated yet? If not we have a few more tricks up our sleeve.
Let's Try Something Else
Open an Office 2010 application such as Word 2010.
Click the File tab then select Help.
Click Change Product Key. Enter the Product Key. Once again make sure you are entering it correctly. Once you enter the correct key click Continue.
Click Install Now and this will install your key. You will see a progress bar and this takes several minutes. Note that this is only installing your product key and is not installing Office 2010. When it is finished, you will get a successful message. Click Close.
Open the Office 2010 product. Click on File and Help. On the right side of the screen you will see the Product Activation Status. If you were successful, you should see Product Activated.
More Information
There are some general errors that you can get when activating Office 2010.
If your copy of Office 2010 is not activated you will constantly get a notification to activate with an error code in the lower left. If you have the Beta copy of Office 2010 you will not get this notification until 25 days. You have to activate it within 30 days after installation. You will need to change the product key to activate the beta product.
Verify that you do have a legal copy of Microsoft Office 2010.
Office 2010 has to be restarted after you activate before it shows product activated.
If you have the Office 2010 Suite (Word, Outlook, Excel, etc.) then you only have to activate one time. You do not have to activate each product separately.
Make sure Office 2010 is set up and configured properly.