Find a Free Microsoft Word Certificate Template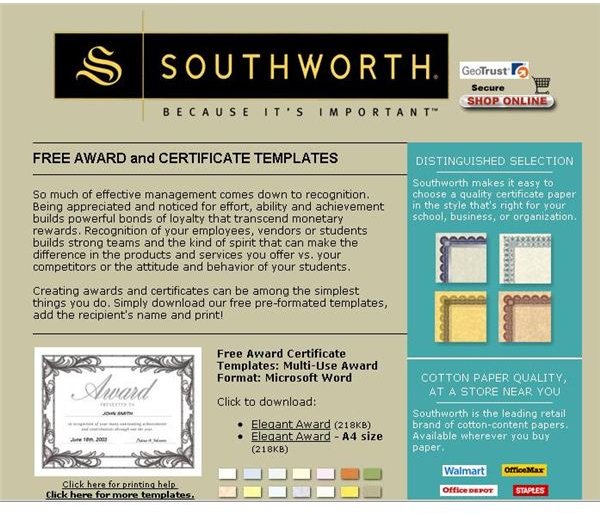 Here are the top ten templates you can use to make your own professional certificates for virtually any purpose. While most of these templates are free, some are available from their creators for a small fee.
1. You Rock! Acknowledge someone special in your life such as a friend, family member, church member, or anyone that means something special to you. The "You Rock!" certificate template from the Microsoft award certificate template collection is a modern, stylish certificate that gets away from the starchy academic style to illustrate how much a person means to you.
2. Employee Gift Certificate. Another top certificate from Microsoft is one that lets you give a gift from your company. Whether you give from your company's products or if you purchase a meal or other special gift in the community, you can fill in this template for an employee that deserves special recognition for a career milestone or notable achievement.
3. Award Certificate. Perfect for academic or other scholastic awards, the award certificate from the Southworth.com collection can
make awards days special. Recognize a special achiever or a student making a good effort using this beautiful, professional looking Microsoft Word certificate template.
4. Safety Award Certificate. For any office, plant, or warehouse, safety in the workplace is always an important issue. Take some time to use the Safety Award from Southworth to recognize an employee or department that has gone the extra mile to keep people safe at work. By encouraging workplace safety, you not only keep your employees well; you keep insurance rates low, meaning there's more money to give out at bonus time.
5. Certificate of Appreciation. Now that someone has done something special for you or for someone in your community, you can create a professional certificate that conveys your appreciation. Downloaded from Brainy Betty, you can use this template to build moral and to convey sincere gratitude for a good deed.
6. Certificate of Completion. For anyone in your organization that has completed a training course, the Certificate of Completion from Brainy Betty offers perfect recognition. People completing special classes at work, church, or school will have something to document their learning with this Microsoft Word certificate template.
7. Sports Award. This Microsoft Word certificate template isn't free, but it is a beautiful way to recognize athletes for their achievement. Whether at school or at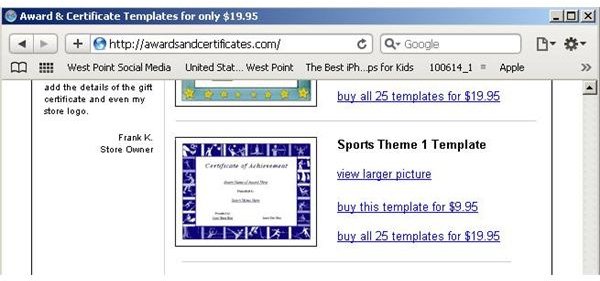 the local Y, this athletic certificate is a perfect way to honor the hardest workers and the best performers.
8. Stock Certificate. Whether you're creating real "shares" of stock in your company or just making a play on words to show that someone else has earned a part of your life, this stock certificate is in a dignified, legal looking format. Like the sports award, this Microsoft Word certificate template is not free, and is well worth its price.
9. More Gift Certificates. A variety of gift certificate designs from the Microsoft Word template collection at Apollo's Templates give you more choices to offer gift certificates to sell from your store. With these templates, you can have a personal, inexpensive way for your customers to give gifts from your store.
10. Birth Certificate templates. Create birth certificates for your pets, your stuffed animals, or role play character with this beautiful template from BoxFreeConcept.com. This Microsoft Word certificate template is a beautiful and unique way to commemorate them any birth.
Now that you know about these great Microsoft Word templates, get busy giving the people around you the recognition they deserve.