Using Windows Undelete to Recover Files and Folders in Windows

In the Windows operating system, we have the option to undelete or recover files and folders. What we've intentionally or mistakenly deleted is easy to recover when using the Windows undelete feature. Any files that we delete are moved by Windows to the Recycle Bin. The files and folders in the Recycle Bin will stay until you decide to permanently delete them or when the maximum size has been reached Windows will delete the files permanently. This is not the only option in Windows to recover deleted files. Any files that are shadowed by WIndows in the newer operating system are recoverable.
Recyle Bin in Windows to Undelete Files
Windows 7 continues to use the Recycle Bin feature to temporarily keep deleted files and folders. Depending on your settings, the Recycle Bin will keep all deleted files or permanently delete them: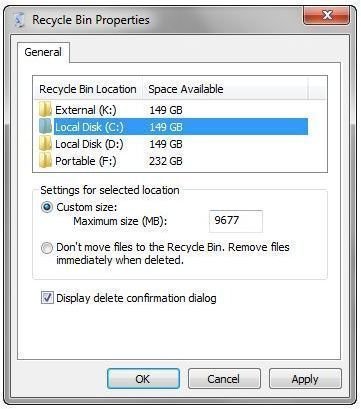 In the above screenshot, you will notice the option to adjust the size that the Recycle Bin will use for safekeeping deleted files. If the allocated amount is reached, Windows will delete the first deleted items until the Recycle Bin's size is maintained again, according to the level you set. It is a First In, First Out (FIFO) principle in general but if the files that you are deleting at once are bigger than the whole Recycle Bin, Windows will permanently delete them immediately after you approve this in a dialogue box notifying you about the permanent deletion.
The Recycle Bin is an important feature in Windows so you can recover your files and folders easily and without losing a mistakenly deleted file. There is some chance it can be use to spy on you, if another person wanted to see what you have been deleting. If you need to permanently delete a file instead of sending it to the Recycle Bin, select the file and press Shift_+Delete_ keys on your keyboard. This command will delete the file or folder permanently.
If you think hiding the Recycle Bin icon by not showing it in the desktop means safe from prying eyes, you are mistaken. It's quite easy for any user to display the Recycle Bin icon again: Typing desktop icons in the Search box in Windows will display the option to hide or unhide any icons in the desktop: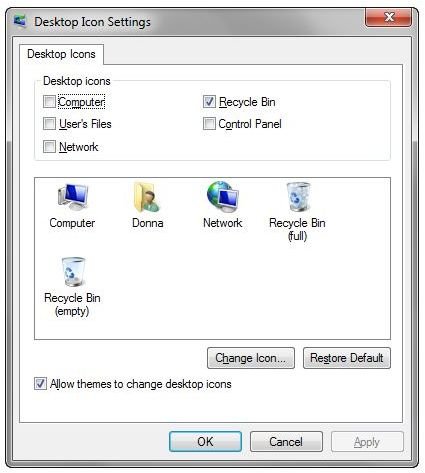 Undo Delete and Redo Delete Options in Windows
Deleting a file and undoing the action is easy to do in newer operating systems. If you just deleted a file, you do not have to open Recycle Bin to restore it to previous location: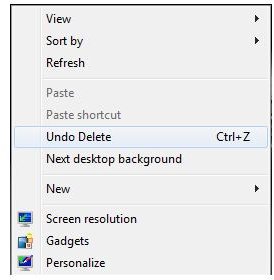 As you can see in the above screenshot, you can command Windows to undo delete which means the files is recovered without opening the Recycle Bin. You only need to right-click any empty space in the desktop. The same method is used should you decide to redo a deletion: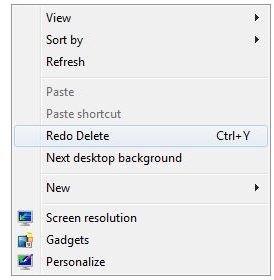 Files in System Restore is recoverable
Another great feature in Microsoft Windows is the option to recover previous versions of the modified files that System Restore in Windows has saved as backup of your system state.
Windows XP, Vista and Windows 7 have a System Restore feature that will keep copies of your files and settings. Any file extensions monitored by System Restore are protected by Windows by creating a restore point. If you have Windows XP, you will find the list of file extensions that System Restore in C:\Windows\System32\restore\Filelist.xml. For Vista and Windows 7 users, visit MSDN to view the list of file extensions that are monitored by System Restore.
In Windows 7 and Vista, there is an option to recover your files using the Previous Versions feature. Any files that are monitored by System Restore are recoverable, provided that your System Restore is enabled in any partition or system drive and has created a restore point before a file has been modified. An Example is the filters.txt file that I have for MailWasher Pro, whenever I edit MailWasher settings on what it needs to filter, System Restore has kept a copy of its previous version so I can restore to it, if necessary: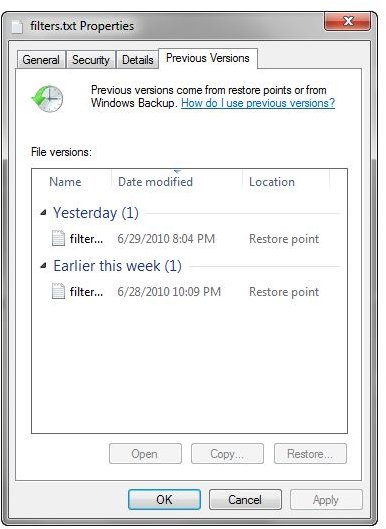 Your options to recover the backup file in System Restore i.e. the previous version of the particular file is to "Open", "Copy" or "Restore". Open means you will view the file, Copy means you can copy the previous version to another location while Restore will command Windows to replace the modified file where it is located.
If System Restore in Windows has not run again to create a restore point (which is done daily by default), you cannot recover a previous version. An example is a file that I modified 2 hours ago: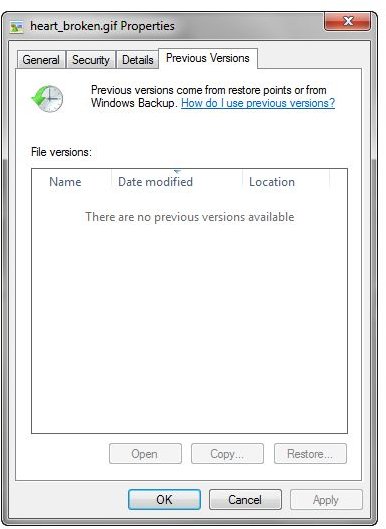 Third-Party Windows Undelete Programs
There are software vendors and developers that provide similar but more powerful tools with more options for recovering files than the Windows undelete features discussed above.
Undelete by Diskeeper is one good application that will automatically keep any files in Windows safe and you don't have to wait until System Restore is scheduled to run before you can restore previously modified or deleted files.
There are also free undelete programs to choose from: Recuva by Pifiform, the maker of the popular CCleaner program. Glary Undelete is another free program to recover deleted files and folders.