Browse Microsoft Outlook Email Themes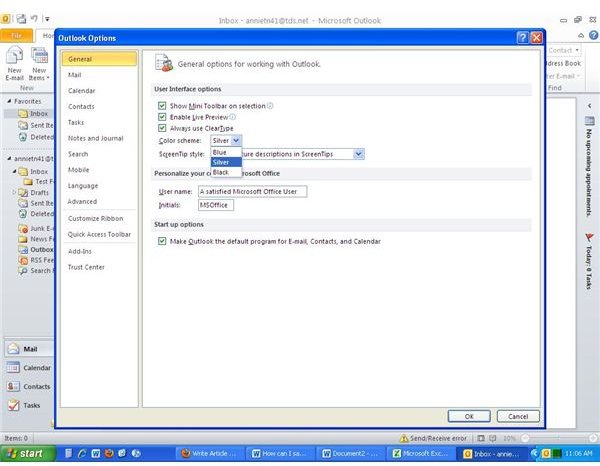 Change Theme in Microsoft Outlook
Silver is the standard theme that ships with Microsoft Outlook. They have only given us two other options – Blue or Black. Not many are there? To start things off we will show you how to change the theme:
Open Microsoft Outlook and click Files then Options
Click on General on the left side. In the pane on the right find Color Scheme. Click the down arrow to open the drop down list and choose another color. If you change the theme in Microsoft Outlook note that it will also change the theme in other Office programs as well.
Should There be More?
A lot of computer users would like to see more themes for Outlook 2010. Everyone is used to customization on everything from the way icons look, title bars, backgrounds, etc. Now we've got Outlook 2010 and not everyone likes blue, silver and black. Wouldn't it be nice to add your own favorite color? Maybe you love red or orange. Why not? Microsoft can do so much with software it would be great to be able to have more customization. Some people would love to be able to make their own themes or get themes from third party software. You sure can get a lot of themes for the Windows operating system. There are so many third party programs and utilities such as Stardock that allow users to customize Windows to exactly the way you want it. Maybe Microsoft will listen to everyone and add some more themes in the future, or at the least let us download third party themes.
Things you can change
You can change email themes for the mail compose window and stationary. These changes allow for different backgrounds and colors on email messages you send.
Open Outlook 2010 and click Options. In the Outlook Options screen click Mail on the left side. On the right side click Stationary and Fonts. Click the Personal Stationary tab then select the Theme button. Under theme, click on the different options. For each choice, you will see a preview. Find the one you like and click OK. On the Signatures and Stationary window you can change fonts for your emails or add a signature. When finished making changes click OK. In Outlook 2007 you can add color to emails also.
Conclusion
You don't have many options and no other themes you can download anywhere. Maybe Microsoft will give us some more themes in the future. We can dream can't we? Most people want it and only few are happy with only three colors. Some people have the opinion however that three is better than none and they are right. At least we do have blue, silver and black. It could be worse and we could be stuck with one color.