Windows 7 Background Black? Here's How to Fix It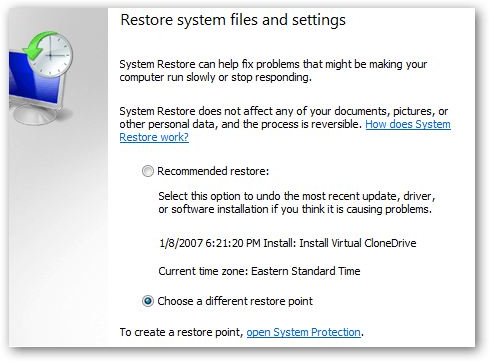 Some say the Service Pack 2 Windows Update caused the black background problem with Microsoft Windows 7, but Microsoft is denying this. It isn't happening only with Windows 7 either, but also Windows XP and Vista. Some people say it happens to those that upgrade from Windows XP or Vista to Windows 7. Malware could also be the culprit. Whatever the reason a system restore should fix the problem.
Probably the easiest way to fix the black screen problem is to do a system restore. For most people this problem started after a Windows update. By doing this you will bring your system back to before you ran the update. To do a System Restore:
Reboot your computer and tap F8 as it is booting up. This will give you the option to put your computer into Safe Mode.
Type restore into the Start menu search box. Click on System Restore at the top of the Start menu.
The Restore system files and settings dialog box opens. You have the option to choose recommended restore, which will undo the most recent update, driver, or software install, or choose a different restore point.
If you choose the different restore point option make a choice from the list of restore points
Choose the restore point and confirm. Restart your computer and it will restore your system to the time you chose.
Malware
Malware can also be a cause of the black screen on Windows 7. You need to restart your computer in Safe Mode and run Malwarebytes or another malware application that you have. It is best to run this scan while you are in Safe Mode. Be sure to update whatever spyware program you use before you run a scan.
Download Prevx Patch
You can try the Prevx patch and see if it fixes the Windows 7 black screen. This patch was made as a fix for the black screen and has worked for many people. First, make sure you are connected to the Internet before you start.
Restart your computer and logon. Wait for the black screen.
Press CTRL+ALT+DEL keys simultaneously.
At the prompt, click Start Task Manager and then click Application tab in the Task Manager.
Click New Task and enter the following command:
C:\Program Files\Internet Explorer\iexplore.exe
If you are using another browser besides Internet Explorer enter your browser path in place of this path. You can click on the Browse button to find the path, or use the Task manager to locate it.
Click OK and your browser will start up and the download process will begin.
At the prompt click Run and the Prevx Patch will download and run to fix this issue.
Restart your computer.
Hopefully the Windows 7 background is no longer black. You may want to change your wallpaper now that it is fixed.