Install Microsoft Outlook How To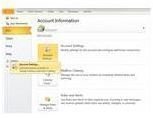 System Requirements
Before you install Microsoft Outlook 2010, you need to make sure your computer meets the minimum system requirements:
Processor Required 500 MHz processor or higher
Memory Required 512 MB of RAM recommended for accessing Outlook data files larger than 1 GB
Hard disk 2 GB available disk space
Media drive DVD or CD-ROM
Display 1024 x 576 or higher resolution monitor
Operating system :Windows 7, Windows Vista with SP1, Windows XP (must have SP3) (32-bit, 64-bit)
If you meet these system requirements let's move on to installing Microsoft Outlook 2010.
Download and Install
If you don't already have Microsoft Outlook 2010 you need to purchase and download it from the Microsoft website. Choose Download, or Download + backup disk.
Once you have it downloaded install it by going through the onscreen instructions. After it is installed it should open automatically. If it does not you can open it by going through Start and All Programs, or you may have an icon on your desktop.
Setup and Configuration
The first time you open Microsoft Outlook 2010 you will see a product activation screen. Click on Change Product Key and enter the product key that was given to you. Enter your name, initials and organization on the User Information screen and click Install Now. You will not be able to fully use Outlook 2010 without this Product Key.
Next you need to set up and configure Microsoft Outlook 2010 for your email account. Your accounts settings will automatically be configured if you are upgrading from a previous version of Outlook. If this is a new installation you will need to configure the email account. Click on the File tab, click Account Settings. Under Account Settings click Add Account. The Account Settings dialog box will open.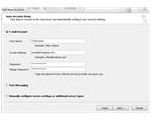 Click the New button and the Add New Account wizard will run. Select Microsoft Exchange, POP3 or IMAP and click Next. You have the option to use the Auto Account Setup to automatically setup and configure Microsoft Outlook 2010.
Enter the name (this is the name others will see when you send an email). Enter your email address with the extension ([email protected]) into the Email Address field. Type in the password for your email account and retype it to confirm and click Next. Microsoft Outlook 2010 will now automatically configure your account. This process can take several minutes.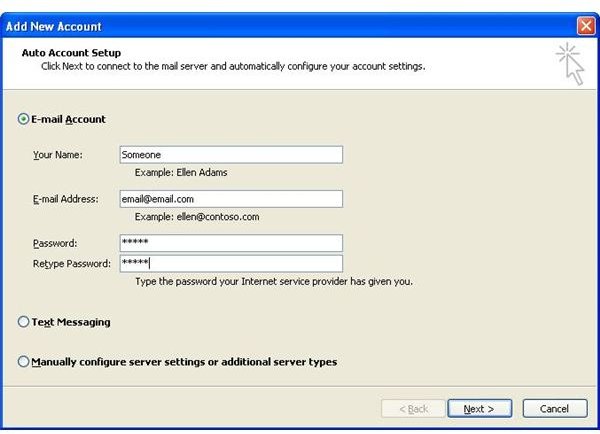 When Outlook finishes configuring your email account click Manually Configure Settings and click Next. Enter your account settings on the next screen to complete the configuration. When this process finishes Outlook will be set up.
More Configuration
Once you install Microsoft Outlook 2010 there are many things you can do such as setting up rules for emails, setting up the calender and even setting up a Gmail account through Outlook 2010.