Microsoft Word Postcard Template Downloads
How They Made the Cut
For a Microsoft Word postcard template to be considered worth including in a "ten great" list, it should be useful for a wide variety of situations or serve a distinct purpose from the others. It must come from a reputable source and be rated highly by the user community. Compatibility with most versions of Word is also important. According to Office Online, these templates are said to be compatible with Word 2003 or 2007 and above. However, each of these templates are ".dot" files, and they are all compatible with Word 2000.
Postcards From The Edgy To The Timeless

Hewlett-Packard has contributed some nicely designed templates as part of their Business Marketing Identity Kits. Although two of the four shown here are intended for a particular business field, they are all flexible enough to be adapted to suit just about any purpose. If you want to make an impression with style, you can't go wrong with these.
Taking a look at the first two, you'll find them to be appropriately named; the one featuring contrasting dark and light sides is HP's "Edgy Smudge" postcard template. The design shown to the right is called "Weathered Book."

If you prefer a more professional, business-oriented layout with room for plenty of text, the muted colors of "Legal Timeless" might better serve your needs.
The next postcard template, "Realty Modern," is intended for realtors, but the design is apparently not exclusive to real estate; it's general enough to apply to almost any field.
Minimal Style Postcards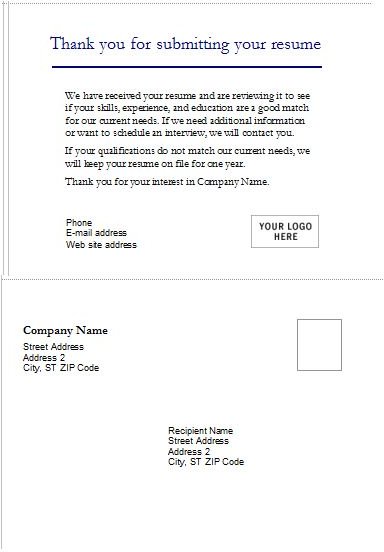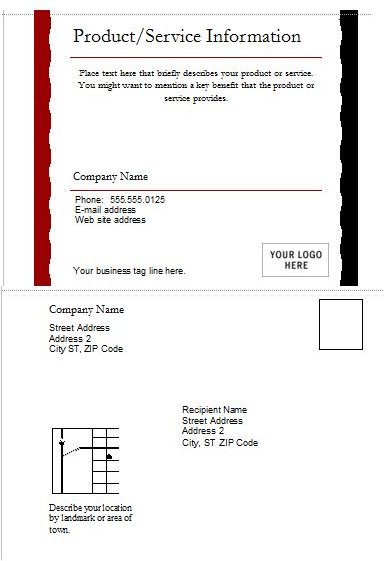 For the economically-minded, here are a few low-key Word templates that will get the point across quickly and simply. The receipt of resume postcard only makes room for an optional logo; otherwise it's strictly for basic communication and can be seen as a less expensive alternative to mass-mailing form letters.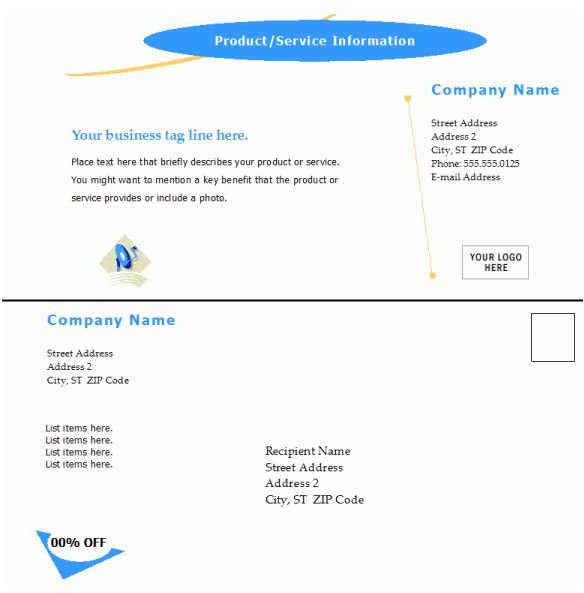 With just slightly more color and graphics comes Microsoft's "Scallops" template. It's similar in layout, but is more appropriate for business promotion with an emphasis on location.
Quite a few people at Office Online have voted in favor of this "Arc Design" postcard style. Its cool color scheme and uncomplicated layout have a certain appeal, although it can be seen as a plus that the basic shapes and lines can be replaced, or removed entirely.
Avery Essentials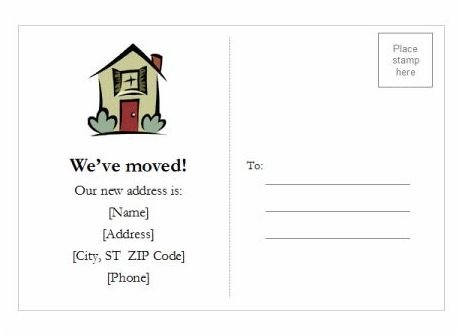 If you or your company have relocated, you'll want to get the word out. Here's another minimal yet useful layout: the Change of Address template. If all you need is to send updated address information, this one will do the job. The sheer simplicity serves only one purpose, but it serves it well.
Rounding out the end of this list of 10 are a couple of highly popular Avery templates. The first is a combination postcard/business card for promotional use. It's designed to work with Avery 8894.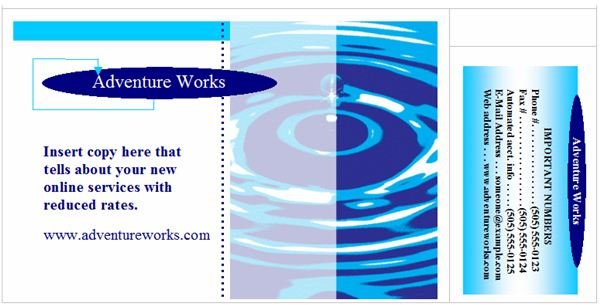 Last but not least is the holiday party invitation template designed to work with Avery 3263 and 8387. It has a fun winter design that steers clear of representing any specific holiday, so it's fine for any celebration you're planning.
Now that you've got a meticulously selected group of postcard templates, you can get some good ideas for making use of them in the Bright Hub article: Creating a Marketing Postcard from a Microsoft Word Template. Just don't forget to stock up on postage stamps!
Composite screenshot images were created by the author.