View Subtitles In Microsoft Windows Media Player With VobSub Plugin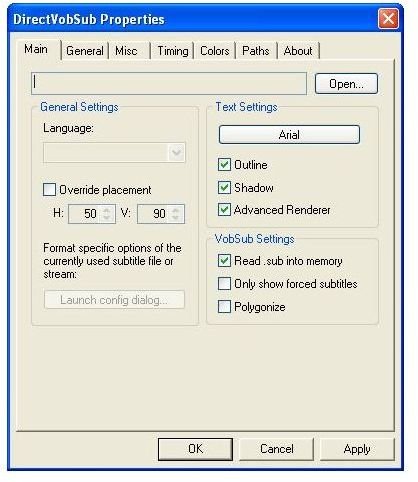 What Is VobSub?
Subtitles don't usually appear when viewing movies and TV shows in Windows Media Player. This is usually because of the way in which the video content is encoded.
If you've ripped your DVDs to your PC, you would see that there is a choice to output subtitle data. This can be displayed along with your movie clip when you play it back - but this depends both on the format of the video and whether you have a suitable tool to read and syncronise the subtitles.
DivX and xVid format files require some extra help in the shape of a cool application, such as VobSub. VobSub is basically an add-on for Windows media player that reads the subtitle files and displays the dialogue on-screen.
Designed to run with Windows Media Player, you can download VobSub free from www.softpedia.com. It can be quickly and easily installed, is compatible with several subtitle formats and gives great results.
Getting Started
To begin using the VobSub plugin, download via the link above. Meanwhile, identify a video clip you wish to use, for instance one that is in DivX or xVid format and is accompanied by a suitable subtitle file. Subtitle file extensions include *.vobsub, *.ssa, *.srt and *.sub.
Test that the movie clip actually plays back. If it does not, you will need to download a DivX or xVid codec. Read this guide for Updating Windows media Player Codecs to find suitable codecs and how to install them.
After the movie has been successfully tested and VobSub installed, you will be ready to try out the subtitles plugin.
How It Works
Using VobSub with Windows Media Player adds captions to whatever video you're watching, as long as there is a suitable subtitle file. Intended for the deaf, subtitles are also useful if you're watching a movie in a noisy or very quiet environment.
Installed as a plugin, VobSub runs alongside Windows Media Player. When a DivX or xVid movie is opened, VobSub automatically searches for a suitable subtitle file. When found, the subtitle is displayed in Windows Media Player across the lower half of the screen.
It really is just like watching a movie at the cinema in a foreign language, or on the TV with subtitles switched on, and is the PC equivalent of the closed caption subtitles found on DVDs and Blu-ray movies.
Using Microsoft Windows Media Player with VobSub Plugin
Before viewing your movie and subtitles, ensure that the subtitle file (with an extension of *.vobsub, *.srt, etc) has the exact same name as your DivX or xVid file. Failure to do this will result in the subtitles not being displayed, and can cause Windows Media Player to crash.
For instance, superdude.divx would have a subtitle file called superdude.srt for the plugin to work successfully. A subtitle file called super-dude.srt on the other hand would prevent this from working.
As the movie plays, you should be able to see subtitles displayed in Windows Media Player. That's it. You're now ready to enjoy a movie with subtitles on your PC!