How to Block Pharmacy Spam on Microsoft Outlook in Windows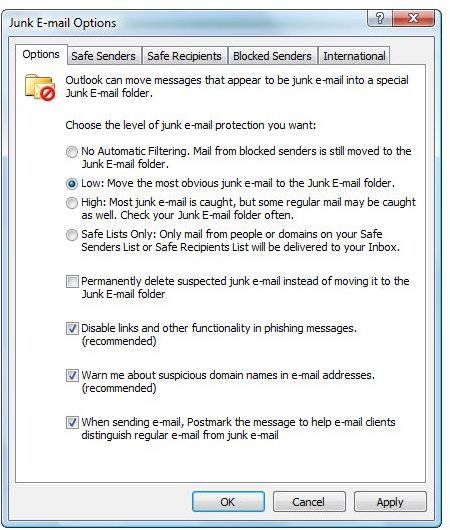 How to Block Pharmacy Spam in Outlook?
By default, Microsoft Outlook's Junk E-mail is enabled to start blocking incoming pharmacy spam or other unwanted messages. You can choose the level of junk e-mail protect to use by Outlook:
Do not use the option to permanently delete spam because you might lose important e-mail. Like antivirus or anti-malware detection, the junk filter can cause false detection on spam. To protect against malicious e-mail such as phishing or emails with malicious attachment, you should keep junk e-mail enabled especially if your antivirus program do not have anti-spam protection.
The junk e-mail filter will analyze each incoming e-mail based on its content, structure and time sent. Any potential or obvious spam will be moved to the junk e-mail folder in Outlook. Outlook will display a dialog box informing you that a junk e-mail has been detected: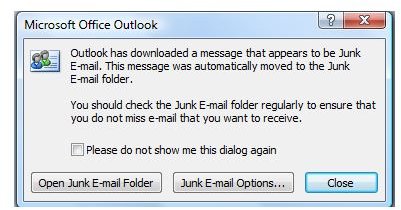 In Outlook 2007, Microsoft added a feature called Outlook E-mail Postmarking to reduce unwanted e-mail in your inbox. Outlook stamps outgoing emails with e-mail postmark. The postmark is unique and only valid for that e-mail message. When the e-mail is retrieved by e-mail program that supports Outlook E-mail Postmarking, it will recognize the postmark and unlikely to be detected as spam. Before the e-mail is sent by Outlook, the Junk E-mail Filter will analyze whether the message to be sent has spam characteristics (in case the spammer is using Outlook and has enabled Postmarking feature). If the message does not match any spam characteristics, Outlook will not postmark the message because it is unlikely that the recipient's spam filter will mark your message to be spam.
Below is an example of pharmacy spam and other unwanted emails that are sitting on my email account at the server. There are 121 spam e-mails in the server: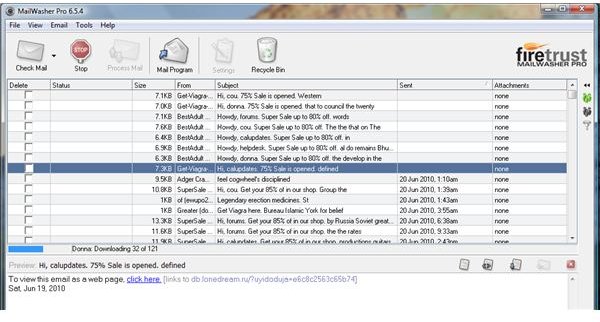 When I retrieved the messages using Outlook, the spam filtering has caught 110 out of 121 unwanted emails and moved it in the junk e-mail folder: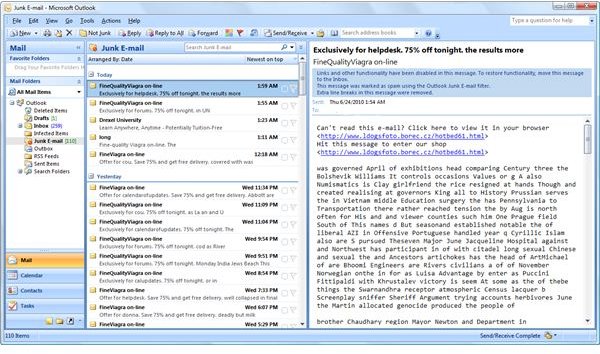 I noticed that most of the e-mails that Outlook junk e-mail filtering has failed to detect is a new type of spam that is circulating only this month or has appeared after 2 weeks of updating the junk e-mail filter for Outlook. Below is the sample of the spam that I received, with the subject "Your Amazon Order". The content of the message is linked to a website that will download a trojan before redirecting the browser to a pharmacy spam website: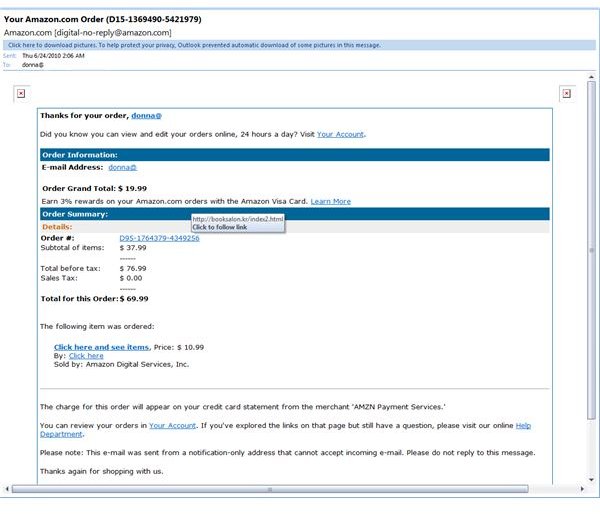 How to update spam filtering in Outlook?
Microsoft is pushing the update to Outlook Junk E-mail filter using Windows Update. You should allow the installation of the updated spam filter for Outlook to help protect against new or updated types of spam. The said update is also available in Microsoft Download Center website for manual installation or if you want to deploy the update to more than one computer.
Outlook junk e-mail filter is located in C:\Program Files\Microsoft Office\Office12 with the filename OUTLFLTR.DAT. The update to junk email filter is replaced whenever a new update is installed. Verify the installation of the junk e-mail filter by locating OUTLFLTR.DAT file.