Certificate of Appreciation Template In Word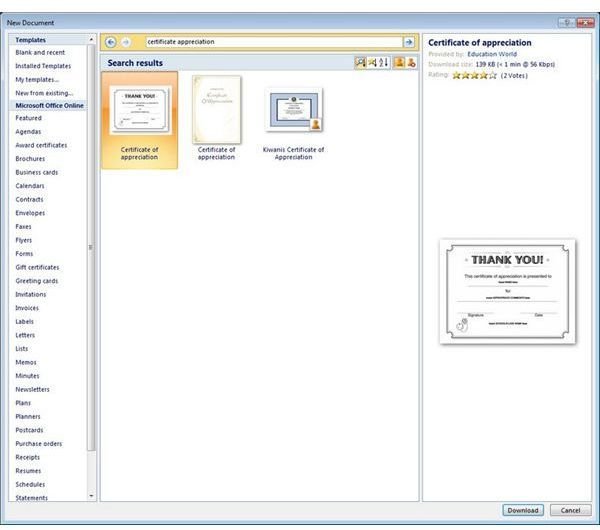 Free Certificate of Appreciation Templates for Microsoft Word
The Microsoft Office suite of products offers many free templates for Microsoft Word and other applications. Some Office templates are installed by default. However, an even larger selection of free templates for Microsoft Office is available online at Microsoft's website. In Office 2007, free templates are easily accessible from within Microsoft Word itself. All Office 2010 editions make using free Word 2010 templates even easier.
Choosing the right certificate of appreciation template is the first step. Click the File Menu (that's the Office Logo on Office 2007, and in Office 2010, the File Menu has been included in the user interface again) and then choose New. To find a good free certificate of appreciation template, you can either browse through the Office templates by clicking on the different categories, or you can search the available templates by typing into the search box at the top of the screen.
A good tip for using free Word templates and other Microsoft Office templates is to not limit yourself to using templates for award certificates or other uses only for their stated purpose. Many good-looking templates can be used for a wide variety of purposes; so, look around a bit before just picking one at random. In this case, I chose the template titled, "Fancy Award Certificate for Any Occasion."
Using Free Word Templates To Create Certificate Of Appreciation Award
To use one of the Office templates, click the template with the mouse to highlight it and then choose Open, or double-click the template to open it up.
Once open, most templates show you where it is designed to be edited in order to customize the document to your needs. Be sure to look the document over before printing out the final version. There is nothing more embarrassing than presenting someone an award certificate with the words, "Insert name here," printed on it.
In this case, the award certificate template has several areas that need to be changed in order for the award to be completed. The name of the award, the name of the recipient, and so on, can all be customized for the specific award.
If you do not need all of the lines or sections, keep in mind that they can be deleted as well to make the award be suitable for the occasion. For example, the award certificate we are designing is not an annual award, so the line, "presents the [year or time span]" is not necessary for our purposes. Clicking this line highlights it for our selection. Press delete, and the text disappears leaving behind a classy award that makes sense for our occasion.
Microsoft Word Certificate of Appreciation Templates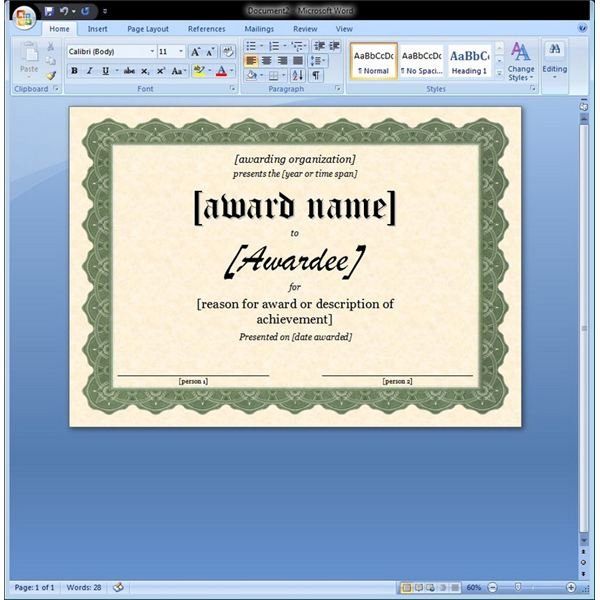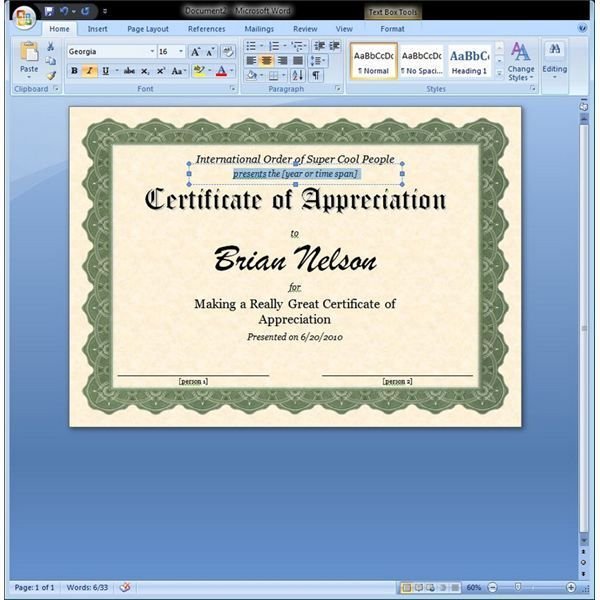 Customizing Free Microsoft Office Templates
Office Templates, whether they are templates for Microsoft Word, or templates for Microsoft Publisher or other products are not limited to only customizing the text. Background, borders, and colors can all be changed as well. In fact, an Office template should be considered the starting point for creating your document, award, or sign and not as a limitation on your creativity.