How To Add Zoom Tool To Microsoft Internet Explorer Toolbar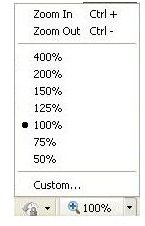 Improve Accessibility with Zoom
A zoom tool can be very useful for browsing websites – for instance you might have accessibility requirements and be unable to read the text as it is usually displayed, or you might be viewing the page via an LCD projector and have a need to finely adjust the resolution of the text.
Whatever the reason, several versions of Internet Explorer (IE) come without a zoom option among the standard menu commands.
While the most recent version of the browser does come suitably equipped (with a zoom option on the bottom border of the IE window), it can be a tricky job trying to find the zoom tool in other versions of IE.
How Zoom Works
Viewing web pages in Internet Explorer allows the user several options, including a standard text only zoom, accessed by holding down CTRL while rolling your mouse scroll wheel.
However, this method doesn't change the size of images or other elements within the browser; these options are controlled directly by the zoom tool.
An activated zoom function zooms-in on a section of the web page, from where you can either use the horizontal and vertical scroll bars to adjust the view, or else change the degree of the zoom. The closest zoom is 400%. Rather than using the toolbar button, you can also use CTRL – and CTRL + to adjust the zoom, not to mention using the menu to set a Custom… zoom level.
How To Add Zoom Tool to Microsoft Internet Explorer Toolbar
In order to add a zoom tool to your Internet Explorer toolbar, load the browser and find a web page that you can easily find some text or image content on. For instance, www.google.com won't give the best results as most of that page is white space!
With your page loaded, move your mouse to the Internet Explorer toolbar, right-click and choose Customize > Add or Remove Commands…
The resulting window will allow you to add and remove various menu commands. In the left hand Available toolbar buttons: section, scroll to the end and select Zoom. Click the Add -> button to send the option to the toolbar, and click Close. You will then see the menu option displayed on the toolbar – if not, click the >> chevrons to display options that do not display by default.
Adjusting and Removing the tool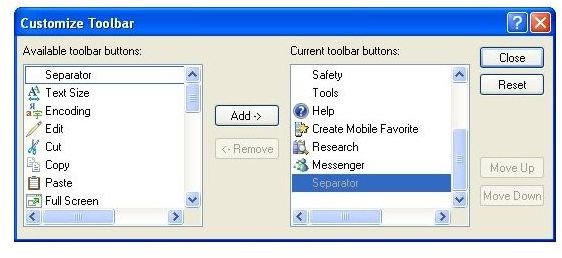 You can adjust the position of toolbar items such as Zoom by right-clicking and choosing Customize > Add or Remove Commands… and using the Move Up and Move Down buttons, with your toolbar command of choice selected.
Should you decide you don't want to display the Zoom tool any more, you can undo the above by either selecting the Zoom option under Current toolbar buttons and selecting <-Remove, or by clicking the Reset button.
It is possible to accidentally add too many Zoom buttons – avoid doing this by clicking Add just the once.