Possible Causes for Which Email Undeliverable Microsoft Outlook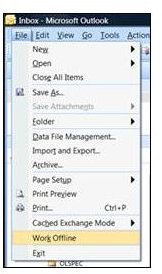 Internet Service Provider
A busy Internet Mail server can cause undeliverable Microsoft Outlook email when you connect through your Internet Service Provider (ISP). To resolve this problem check with your Internet mail server to be sure they are not having any problems. Once you do this, you can try to resend the message.
Open Outlook and open the undeliverable email message in your Inbox.
Click on Tools at the top of the window and click Send Again.
The original message will appear. When it does click Send from the Tools Menu.
Check to be sure that the email went through.
There are several reasons why you could be having this problem. If sending the Outlook email again did not resolve the issue read on for more help.
Problems Sending One Email
If you are having problems sending one particular email, it could be the email address. Verify that the email address is typed in correctly. You may need to check with the recipient to be sure they gave you the correct email address. They may be having a problem on their end.
Size and Attachments
If the undeliverable email has a attachments that are too large you may be exceeding your ISP's size allowances. The maximum size of an email is determined by your email service provide. Outlook 2007 has no restrictions on size.
Sometimes the email will get stuck in your Outbox if you try to send the email with a large attachment. To resolve this problem:
Open Outlook and click on File at the top of the screen. Select Work Offline. This will stop Outlook from sending emails.
Close Outlook and reopen.
You have two options here. You can move the message by dragging and dropping the email into the Drafts folder. Once it is in the Drafts folder you can edit the attachment to make it smaller then try to resend again.
You also have the option of deleting the message, which will move it to the Deleted Items folder.
If you have any problems at this point restart Outlook and try again.
Once the email has been sent click on File at the top of the screen and deselect Work Offline.
Authentication
This behavior can occur when your Internet Service Provider requires authentication before you send an email message. In most cases, it will require authentication only when you receive a message.
To configure authentication for when you send an e-mail message follow these steps:
Open Outlook.
Click on Tools and select Email Accounts.
Click View or Change Existing Email Accounts. Click Next.
Select your account and click Change.
Click More Settings and click the Outgoing Server tab.
Click and select the My outgoing server (SMTP) requires authentication check box.
Click Use same settings as my incoming mail server and click OK.
Click Next then Finish.