Make Room! Recover Your Hard Disk Space with Easy Duplicate Finder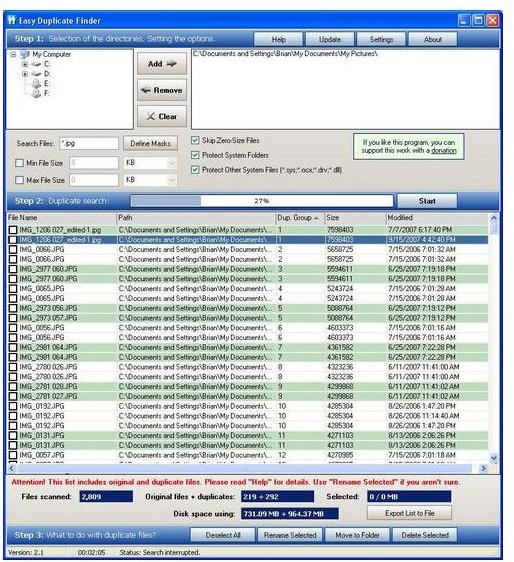 Easy Duplicate Finder
These days, there are tons of free utilities out there to help improve your system performance in some way. What I have found is that some of them overreach, and many of them over promise and under deliver. That's why I like my utilities solid and customizable.
Easy Duplicate Finder does just what it says. It finds duplicate files. There are a lot of utilities out there that do that, but the reason this one is on top is because it does exactly what it is supposed to do and nothing more. Even better, it has plenty of easy to use options that make sure the results you get are the results you want.
For example, take my computer. I have 50GB of photos stored on my hard drive. That's right, FIFTY GIG! Why? Well, I do shoot my pictures in RAW mode and I do have an amazing two year old, but that isn't the big problem. Before I learned how to actually use good digital photography software properly, I did a bunch of things manually with my pictures. For example, I would make a copy of my pictures as soon as they were loaded onto my disk so that when I edited a picture, I didn't accidentally write over the original. Then, I made other copies so that I had all the pictures I wanted to order online in the same directory for easy uploading. I made another directory so those files could be shared and so on and so on. In other words, I have duplicate photos all over my hard drives (I have two). The catch is that I can't delete any of them because I don't know which ones are copies, which ones have been edited, and if I deleted the copies that I think there are the last time I undertook a project like this.
Easy Duplicate Finder comes to the rescue
Now, I have two 60GB hard drives and they are pretty full. That's why I need to delete some pictures. A program that scans my whole drive will take forever, plus, right now, I'm only interested in duplicate photos. Then, when the duplicates have been found, I don't want a report. I want a way to delete the duplicates, but I want to pick which one is the duplicate and which one is the real one. All of this is no problem with Easy Duplicate Finder.
I can tell it exactly where to look for duplicates. I can tell it to not look at system files and I can even give it minimum and maximum files sizes. Then, I can tell it what files to look at; only .JPG files for example. Another feature I love is that when I get impatient and stop a running scan, it doesn't wipe out the partial data. Instead, it displays the information it has gotten so far so I can work with that.
Once the scan is done (or stopped) I can choose to delete files manually by checking which ones I want deleted or I can use more advanced options like, Delete All Duplicates in this Folder. That means that all the duplicates will be deleted from the folder that I have decided is the duplicate folder. But, if there is anything in there that is not detected as a duplicate, it won't be touched. You can also choose to keep the oldest or newest of each file.
Recommendation (5 out of 5)
Easy Duplicate Finder is the fastest and most usable duplicate file detector and eliminator that I have found. It doesn't scatter files all over your hard drive and it takes just about 2MB of RAM when idle. It also knows not to hog the hard drive access when you have it running in the background, so you can keep working on other things while it finds all your duplicates. It is free for personal download.
5 Stars out of 5 Stars