Download The Top Free Microsoft Word Templates - Newsletters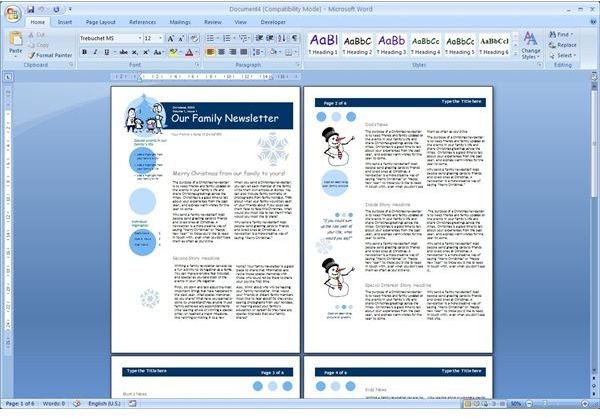 More Free Microsoft Word Templates - Newsletters
Newsletters can serve so many purposes – not least offering a personal touch to your business or association. You might even want to send a newsletter to family and friends to save time writing several letters. As such, suitably formatted documents are a popular option and because of this popularity, they can be expensive to design and print professionally.
As you may be aware, Microsoft Word features many templates of different types, and among these are several very useful newsletter template options, customizable to suit any purpose.
Available on Office Online via Microsoft Word are 35 individual newsletter templates, each of which can be downloaded to your PC and adjusted to meet your requirements. With differing visual designs and layouts, these templates can be easily edited to provide you with the low-cost, professional-looking newsletters you have been looking for.
Finding the Templates
While there are many templates included in Microsoft Word, the majority of suitable templates for use in Microsoft Word can be found on Office Online. To find these, you can visit office.microsoft.com and search Office Online, or else use the provided link within Word.
In Word, go to File > New and in the templates screen use the Office Online search box in the top half of the page and enter the term newsletters.
The results will return 35 suitable templates intended for use as newsletters. Have a browse through these, choose your favorites and download them to your PC for use in Word.
It is unlikely that you will find the one you want straightaway – that is why it is a good idea to pick a few and see how they look up close. Once you have settled on one or two likely choices, it is probably a good time to start entering your own text content.
Top Ten Free Microsoft Word Newsletter Templates
Thirty-five templates is a lot to get through - to help you out, I have provided a list of my top 10 favorite newsletter templates for Microsoft Word:
Employee Newsletter - a great way to reach out to employees and colleagues.
Green Wave - intended for technology groups or companies, this is quite a useful looking and versatile template.
Technology Consulting - great for businesses on the cutting edge of technology.
Family Christmas - the name says it all. Christmas is probably the cause of the original family newsletters back in the 1980s.
Family Holiday Newsletters - there are in fact a bunch of non-denomination seasonal newsletters, each with their own themes.
Rugby Club - a great newsletter suitable for any sports association club
Classroom Newsletter - great for schools, both in the classroom and to send home to parents
Fruity Newsletter - an unusual but refreshing template.
Health - pastel colors that shout "life!" are in use on this template, suitable for both modern medicine and holistic use.
Edgy Smudge - a thoroughly modern looking template, great for giving your news a relevant look.
Remember, of course, that ultimately they are all templates - and can be used for any purpose you like!
Making Use of the Templates
With your free Microsoft Word newsletter template downloaded, you are in a position to open it in your word processor and get an idea of how it will look on paper.
The great thing about templates in Microsoft Word is that they have been designed in such a way that it is easy for you to leave elements as they are or remove them entirely. You might wish to move some text boxes around or remove them entirely, and this is easily done by selecting the box in question and pressing Delete on your keyboard.
Similarly, your own information is easily added – for instance if you have a small introduction passage of text, this can be types or pasted in to a suitably positioned and sized text box.
Microsoft Word newsletter templates afford the opportunity to reach out to customers, family or members with a low-cost professional finish – all you need are a few words, some addresses and a great template choice!