Sending OWA Email Microsoft Outlook Web Access Explained
Outlook in Your Browser
If you're fortunate enough to have access to your corporate email account from outside of work, your employer probably makes emails available either via the standard POP protocol for you to collect messages via your home email client, or via Outlook Web Access.
Outlook Web Access – also known as OWA – is essentially a browser-based version of the main Microsoft Outlook email and time management tool. Utilizing all of the most up to date scripting techniques, OWA allows you to use a virtually identical version of Outlook from anywhere in the world, featuring all of your work emails, contacts, tasks and calendar items.
Accessing and using the browser-based Outlook is simple and straightforward – in fact with only a few advanced features missing – there is every chance that you will decide you prefer Outlook Web Access over the full application!
Accessing OWA Email – Microsoft Outlook Web Access
Details about the settings required to access your corporate Outlook email account from a location on the web will have to come from your organization's IT department. They will have the details for you to use, such as the full URL (the address that begins HTTP:// or HTTPS://), as well as the login credentials, which may differ slightly from your usual login at work.
With your details at hand, the address entered into Internet Explorer or a suitable browser of choice, you should be quickly on your way – and ready to start using Outlook Web Access
Sending Emails with Outlook Web Access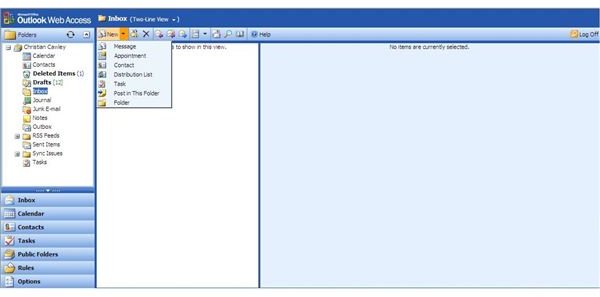 There are some minor differences in the interface between desktop Outlook and OWA. For instance, clicking the New > Message option to create a new email message displays a whole new window, into which you can add your email message. Enter the names of the various recipients via the To: field – clicking this will open up a list of your usual contacts, and if configured, your corporate address book (CC: and BCC: are also available). Attachments can also be added to a message via the paperclip icon - note that your email administrator may set a size limit on attachments when sending via Outlook Web Access.
All of the expected styling options are available via the standard formatting toolbar which you would find in the desktop Outlook and other Microsoft applications. However it isn't just emails that can be sent and managed via OWA…
Contacts and Calendars
Outlook Web Access also allows for the management of Tasks, access of Public Folders and even configuring Rules – however most importantly you can manage both Contacts and Calendars from OWA.
This functionality sets OWA apart from third party browser-based email solutions – it really is a wholesale integration that allows seamless interaction with mail messages and calendar appointments, with your entire contacts list at your finger tips.
New contacts can be added, existing contacts can be sent emails, calendars can be updated and adjusted, tasks can be updated or completed and reminders can be set or dismissed.