Microsoft Excel and PowerPoint Training - Best and Free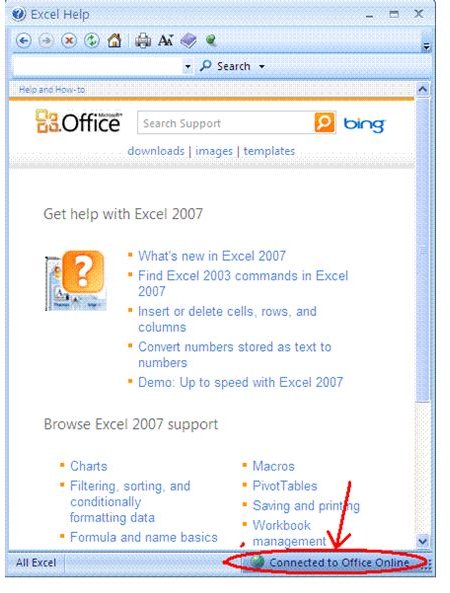 Microsoft Office Documentation
One of the best places to get Microsoft Excel and PowerPoint training is the Microsoft Office Help and Support. You can study and get the training at your own pace. The best part of Microsoft Excel and PowerPoint training through its Help System is that the training is absolutely free.
Though the documentation system of latest Office products are not the same as they were until Office 2003, still it serves as a good system for learning Microsoft Excel and PowerPoint in an easy, step by step manner. With Office 2003, the support system mainly started offering online help if you were connected to the Internet. The step-by-step documentation system is not available in Office 2007 and later products.
Office 2007 and Office 2010 do not carry the Help menu where you could have found the Office documentation easily. You have to press F1 to get access to Help and Support. Once you press F1, a dialog box appears (See Figure 1 below). You have to click Connected to Office Online to select if you wish to get material from Microsoft Office's website or from the local computer. If you wish to get started, select Show content from this Computer Only to get a list of topics that help you get trained on Microsoft Excel or PowerPoint (See Figure 2 below). This will produce a documentation system similar to that in previous versions, ideal for beginners. Once you have some command over the product, you can go for the online version of Help by selecting the Show Content from Office Online option under Offline.
.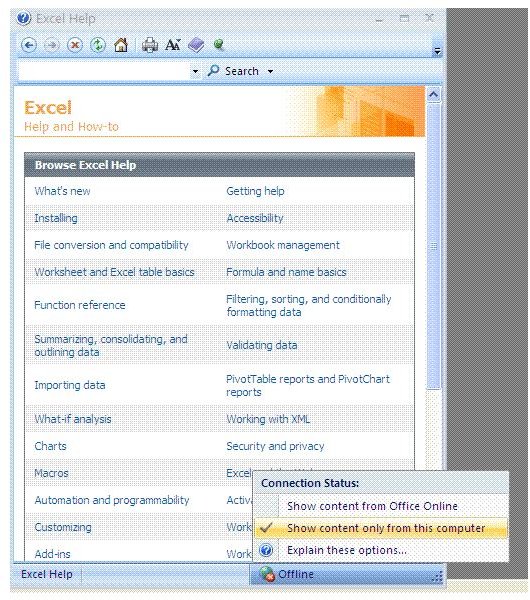 I recommend taking down notes so that it becomes easier for you to cross reference while using Microsoft Excel or PowerPoint. I had my free training of Microsoft Excel and PowerPoint using the documentation on one of the early versions of MS Office, supported by Windows 3.1.
Online Free Training of Microsoft Excel and PowerPoint
Other than the above-mentioned method, you can get the best free Microsoft Excel and PowerPoint training at several online websites, including Microsoft.
Microsoft Office Online Tutorials
As said in the above section, the best way to get training on Microsoft Excel and PowerPoint is Office Help system itself. Other than the documentation, you can go to the training website of Microsoft Office to get better training on these products. This website offers you training for Office 2010, Office 2007, and Office 2003. For training on say, Excel 2007, scroll to Office 2007 and click Excel 2007. Similarly, you can select PowerPoint 2007 for a free and guided training on PowerPoint. The main page will present several options based on number of searches. Out of the given options, make sure you select the "Basic Training" part. For example, if you are using Office 2007, select Excel 2007 Training and PowerPoint 2007 Training.
Microsoft Lessons
Besides a well built online and offline training system, Microsoft also offers several lesson plans for people who are familiar with basics of Excel and PowerPoint. The Microsoft Learning Website helps you gain perfection in one or more tasks in any Office products, including Excel and PowerPoint training.
Microsoft Instructor Led Training (Not Free)
Other than free lessons and video guides, Microsoft also offers Instructor led training on different Office products. You can enroll for Excel and PowerPoint or for the matter, entire MS Office, pay the fee and start learning the software. For more information on fee, duration, time, etc. of these training sessions, visit the BestSTL Training Website at www.microsofttraining.net. You can opt for a range of courses starting from introductory to advanced to Office programming. Fee depends on the course you select. The best part of this form of training is that you get regular supplies of worksheets and guides that help you master the software.
Note: This article covered cheap, best and free Microsoft Excel and PowerPoint training from MS only. Several private institutes train you on Microsoft Excel, PowerPoint etc. You may wish to do some research to find out one that matches your budget without compromising on the quality of the training.