Find Microsoft Word Candy Wrapper Templates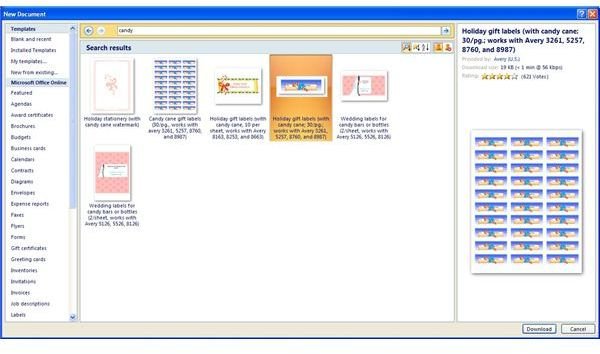 Make Your Own Candy Labels
Whether you are cooking boiled sweets or some other candy snack, or have bought a load in bulk for giving away later, you can find a selection of useful Microsoft Word candy wrapper templates on Office Online.
Once downloaded, these templates can – like any other Word templates – be edited or tweaked to your requirements, before printing to either special sheets of adhesive labels or standard sheets of paper.
With your labels ready to be printed, your candy sweets will be ready for wrapping in a piece of cellophane and decorated with your custom labels. But where do you find suitable templates – and how can you customize the labels?
Finding Microsoft Word Candy Wrapper Templates
To find a suitable candy wrapper template for use in Microsoft Word, open the application and go to File > New in order to start a new document. In the next screen, select Blank Document, and in the search line at the top of the screen, search Office Online for the term "candy."
The results should give you several suitable choices that you can then download and use. My favorite is the Holiday gift labels option, which prints 30 labels to Avery 3261, 5257, 8760 and 8967 sheets. Other options available include suitable labels for both Christmas and weddings – perfect if you are planning on producing your own favors for guests!
Any of the displayed results should do the trick, however; even those that are too big can be scaled down for use with smaller sweets.
Once you decide which template you are happy with, it is time to download to your PC – simply select your favored Microsoft Word candy wrapper template and click Download.
Once you decide which template you're happy with, it is time to download to your PC – simply select your favoured Microsoft Word candy wrapper template and click Download.
Using your Microsoft Word Template
With the template downloaded, you can select it by going to File > New > My Templates.
After opening, you will see 30 labels, arranged on a single page ready to be printed either to plain paper for adhesion to your gift later, or for printing directly onto suitable Avery label stock.
As is usually the case with Word templates, there is some customization required – the labels in the example shown have a space for you to add the name of the recipient and the sender, making these a great option as gift labels. If you do not want to do this, simply select the "To:" and "From:" and rather than adding names, delete the text boxes.
Once you are happy with how the labels look, you're ready to print 30 candy wrapper labels!
Other Suitable Candy Wrapper Labels
If you are not impressed with the wrapper labels available from Office Online, you can find a great selection of alternatives on the web. You might even opt to retain the layout of the downloaded template and import label images from the links below…
RaspberrySwirls.com features a selection of candy wrappers that can be downloaded free. These have been retired from the website's premium catalogue, so they have been previously used for similar purposes.
Meanwhile, About.com has a selection of interesting candy bar wrappers, in Word .doc format. These can be downloaded the website and quickly printed out for use.