Finding And Installing A Change Request Template For Microsoft Word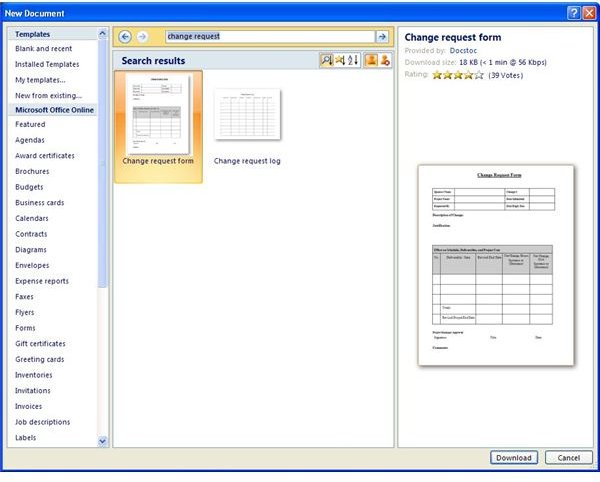 Looking for Change Request Templates for Microsoft Word?
The use of change request documents is widespread across many business types, and usually concerns internal documentation (although it can also often be used to request specification changes to computer hardware, machinery and industrial projects.)
For instance, you might have a policy document pertaining to information security, and following recent developments in mobile telephone technology want to allow users with corporate phones to take advantage of mobile internet services to assist in remote working. This would then require a change to your information security policy.
While it is a simple task to draw up your own change request document, suitable templates exist within Microsoft Word that can save a bit of time – you can use these templates straightaway!
Once downloaded from Office Online, a suitable template can be saved, completed and even be adopted as a department- or organization-wide standard, with a minor amount of reformatting and tweaking.
Finding a Suitable Template
Change request templates for Microsoft Word can be found on the Office Online website. This is accessible either via your browser (office.microsoft.com) or in Word by going to File > New (Office Button > New in Word 2007) and choosing a suitable template.
Using the search box in the top half of the templates screen, enter a search term such as "change" and cast your eye of the results. You should find a couple of key options – one of these is a change request document, the other a change request log. You might also find some other change request documents, such as one to update some employee details; as explained above, use of change request documents is widespread, such is the need to log and record data for audit purposes.
Choose your templates to Download – you will then be ready to start adjusting them in Word.
Using Templates in Microsoft Word
Once you have downloaded your change request template of choice, you will be able to start adjusting it to fit your needs.
For instance, you might alter the document to include a suitable logo or add a header or footer – alternatively, you might style it in a completely different manner, giving it a different and less formal look.
Close perusal of the change request document will reveal how it should be used – unlike other templates in which blocks of text are provided for you to over-type, this example is pretty much a pro-forma, requiring additional information to be added where specified. Information that might be added to a document of this kind might be the name of the person requesting the change, the details of the requested change, and the potential impact.
Documents such as this typically get logged – which is why a change request log template is also made available by Microsoft.