Remove Malware with the Microsoft Windows Malicious Software Removal Tool (MSRT)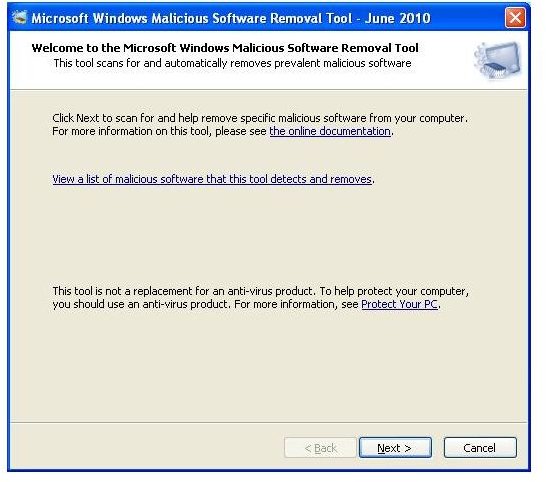 What Is Malicious Software Removal Tool
Malicious Software Removal Tool (MSRT) is free software from Microsoft, which removes a host of the common malicious software (malware) from computers running Windows 2000, Windows XP, Windows Server 2003, Windows Vista or Windows 7
MSRT gets on your computer with the default installation of Windows without you expecting or even noticing it. You will not find it in the Windows Start Menu or on your Desktop. It's not even running in the background. Where is it then? MSRT is a useful security tool for Windows but I wonder why Microsoft has not made it easily accessible to a typical Windows user? The MSRT executable file is found in the system32 folder of your Windows installation. And to run it you will need to open the RUN dialog (Win key + R) or the Start Menu (Windows Vista and Windows 7), enter "mrt" and click OK.
Using MSRT
The interface of the Malicious Software Removal Tool is very straight forward. You just have to click the Next button a few times and the system scan will start. When you run the MSRT, you will see the following screen:
This dialog tells you that the MSRT will scan and remove malicious software from your computer. Click Next to proceed and you will see the following screen: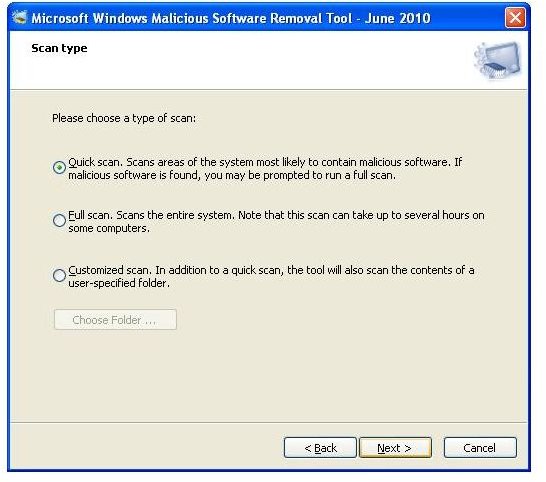 MSRT can perform three types of scans – Quick Scan, Full Scan and Customized Scan. I would recommend you go for the Full Scan to be sure all malware is cleaned off your PC. Select the type of scan you want to run and click the Next button. The scan will then start automatically.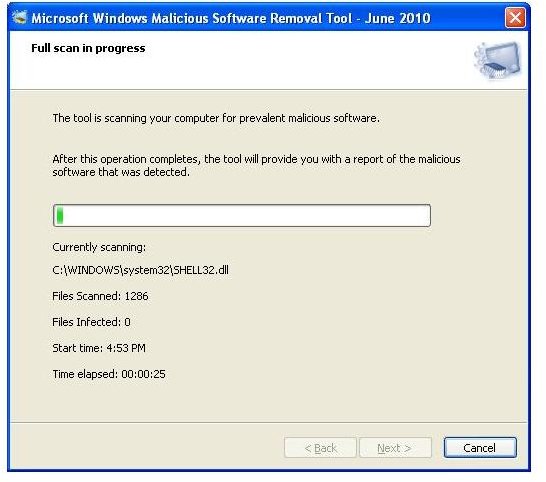 Once the scan is complete, a new screen will appear showing you a report describing the outcome of the scan. If it detects malware, it will ask you to remove it. If no malware is detected this means your system is clean. Click the Finish button to exit MSRT.
Windows MSRT Vs Other Antivirus Software
Even though this tool helps to remove malware, it should never be used as a substitute of antivirus software because of the following reasons:
MSRT has a limited database of malware and hunts only for specific threats.
This tool can not remove the malware, which is currently running on your computer.
The tool removes malware from an already infected computer; it does not block it from entering into your computer.
The software is updated very infrequently – only once in a month.
As you see MSRT is not a replacement for an antivirus solution. Using one of the third-party antivirus programs like McAfee or Norton gives you high-level security from threats. And unlike MSRT, they actively run in the background of your system, providing real-time protection against malicious software.
However, if you suspect your computer has an infection and your antivirus software is not detecting it then you can use MSRT to be sure whether your computer is infected or not.