Word Online Web Apps How To Microsoft Office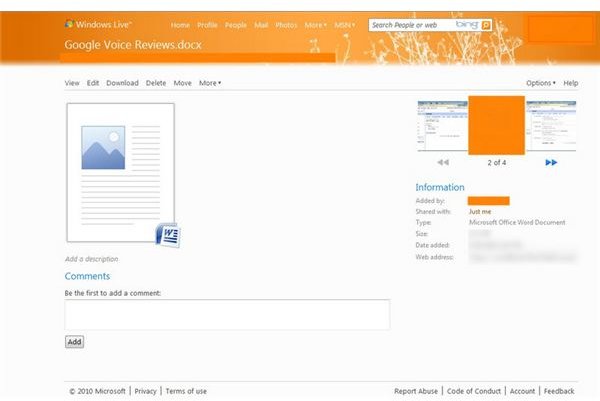 Microsoft Office 2010 Web Apps
Microsoft has been trumpeting its Web App versions of the Microsoft Office products for several months now. Eventually the online versions were named Microsoft Office 2010 Web Apps. In classic Microsoft marketing strategy, the company has been beating the drum and promising big things for web apps. Recently, Microsoft said the upgrade from Office 2010 technical preview to full release would happen the moment web apps would be fully functional. So far, however, a funny thing has happened about its new web apps - they never showed, not all the way at least.
The timing has some computer professionals harkening back to Microsoft's numerous empty promises of software products, updated technologies, and just wait one more quarter releases. Microsoft repeatedly promised a soon to be released 32-bit OS to keep companies from moving to the already released OS/2 operating system. The actual release came years later, of course, but by them OS/2 had shriveled away. The tactic became so common that it even earned its own acronym. Fear, uncertainty, and doubt, were Microsoft development's calling cards. Some computer industry insiders can't help but wonder if the cycle is starting up again.
Zoho Applications have been in full production release for several years now. Shortly after the line of Zoho Office-style applications were anointed non-beta, search engine giant Google came out with its own line of office productivity applications called Google Docs. Both offerings promised run anywhere, cross-platform Internet accessibility that provided many of the same features as Microsoft's only remaining money maker at the time, Microsoft Office.
To forestall the possibility of businesses moving toward online office applications, particularly in light of their decision to not bother migrating to Vista, Microsoft announced in October 2008 that it would create fully functional online versions of the Microsoft applications and that their version would come close to a full duplication of the desktop applications. However, time and again, Microsoft has missed target dates for beta versions and public preview versions.
Today, the web app version of Microsoft Word is available online as a read only tool without any capability to edit Word documents. In fact, Microsoft Word online cannot even create a Word document. One must be created in another application, such as the desktop version of MS Word or via Google Docs or Zoho Applications.
Once created, the document can then be uploaded to Microsoft SkyDrive, which is part of the company's Windows Live service. Once uploaded, users can navigate to the folder containing a Microsoft Word document. Clicking on the document brings up a menu bar where the user has the options to View, Edit, Download, Delete, Move and "More."
Clicking on Edit brings up a screen that says the function is not yet available.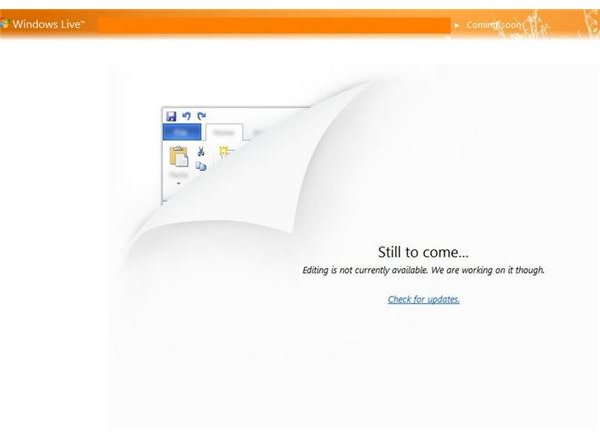 Clicking View does allow for Word documents to be read online, but not edited or changed.
The More function offers a Copy and Rename function, while Move allows the user to move the document to a different folder within SkyDrive.
For now, using Microsoft Word Online means just taking a look at the file, but the official line is still that the non-preview versions of Office web apps will be released with the full release of Microsoft Office 2010 to the public on June, 15, 2010. Time will tell if this time Microsoft can deliver, or if users will once again be told to wait just a little bit more when the open up the box on whatever edition of Office 2010 they buy.