Where To Get Windows Media Connect 2.0 for Windows 7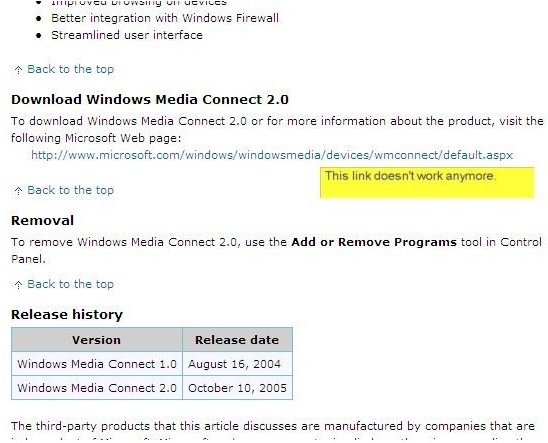 Using Windows Media Connect and a digital media receiver or other WMC compatible client allows for media such as music, movies and photos that are stored on a computer to be streamed and viewed on the client system. This technology is useful for connecting a PC-based computer system to a non-computer system such as set-top boxes, digital audio receivers and certain kinds of DVD players. It can also be used in cases where one computer stores the multimedia files, but the user wants to play them back on another computer like a laptop or netbook. Another common usage is to connect computers to an Xbox 360 or Sony Playstation 3, and in some cases the Microsoft Zune music player.
Windows Media Connect was originally released as a standalone add-on for Windows XP systems. However, after version 2.0, Microsoft integrated WMC into subsequent products and releases. Windows Media Player 11 has Windows Media Connect integrated into it, however it contains only the server piece and not the client piece. Another version of WMC was upgraded and renamed Home Media Ecosystem where it was used in Windows Home Server.
In Windows 7, the functionality of WMC has been integrated and taken over by new technology as part of the Homegroup networking functionality built into the operating system.
Users of newer Microsoft products such as Windows Media Center, the Windows 7 operating system and computers using version 11 or higher of Windows Media Player typically won't need to download WMC as it its functionality has been replaced or incorporated into various features within those products.
For this reason, it can be difficult for some users who do need Windows Media Connect for whatever reason in their particular environment to find WMC 2.0 in order to download it. However, the software is still available to users, although it does require a Windows Live account or other username and password to gain access to the download section.
Windows Media Connect Download Files
Although some search engines report various results showing a Windows Media Connect 2.0 download on the Microsoft website, those links no longer exist. Although the upgrade to WMC 2.0 is announced along with information about what is contained within the download, the link no longer goes to the download location, but rather to the generic Microsoft Media page. The download is also not available via visible link in the Microsoft Download Center.
However, users wishing to download WMC 2.0 can still access the files via a direct URL. To download the software, type the following:
into your web browser, or just follow this link to Windows Media Connect 2.0.
The WMC 2.0 files can also be found on various archive websites that store old versions of software for users who require them. One example is FileFront.com which has the files archived on its website here: WMC 2.0 on filefront.com.