Customize Windows Media Center - Hacks, Tips, Settings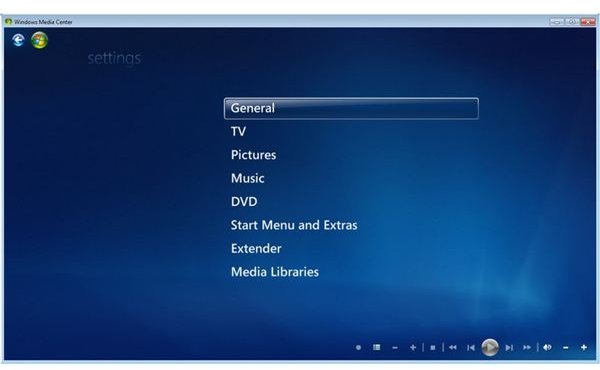 How To Customize Windows Media Center Setup
There are two ways to customize Windows Media Center (WMC). The first is to tweak the WMC setup options and other settings in order to have WMC behave the way you would like. While Microsoft took great care in choosing the default settings for Windows Media Center by listening to user feedback – both verbal and from the new "improvement center" options included in most products – the way you use Media Center may not be the same way the "average" user uses media center. Once you have installed Windows Media Center the customization begins.
Some people care more about movies, while other care more about music. Your WMC may play directly to your television set, while other WMC setups may be connected to an LCD computer monitor. No matter what your setup, Windows Media Center can be customized for optimal usage by you.
The first step for customizing Media Center is to find the settings menu.
Unlike other Microsoft products, Windows Media Center does not have a standard menu bar along the top of the application with the familiar File, Edit, and Help menus. This is deliberate because WMC is intended to be used in a variety of settings including being directly hooked up to a television set or digital video recorder (DVR) where there is no mouse. Instead, menu options are displayed in a style similar to a menu like those found on DVD movies. Thus, scrolling is done via traditional computer mouse and keyboard, or via most multimedia receivers, amplifiers, DVD players, or television remotes.
The bottom menu item in Windows Media Center is "Tasks" and this is where the settings menu is located. Because the menu "loops" back to the top if you scroll past the bottom of the menu, you may have to go slowly on systems with low input sensitivity if you keep missing the Task menu.
Inside the task menu are numerous settings and options. Covering them all here isn't possible, but the main settings most users will want to tweak include specifying where the multimedia files are that you would like to access with Media Center. This is configured under Libraries and can be set for each type of media. You can add all the places you keep your digital photos, while changing the videos library to only include the directory you store all of your home movies in.
Other settings include configuring your monitor or TV screen, your speaker setup, and visual eye-candy like visualizations, and transition effects.
Hack Windows Media Center With Customization Tricks
For some users, these configuration settings are not enough. Going a step further and tweaking things like adding custom logos to Windows Media Center or adding channel logos to the Windows Media Center guide screen are also possible. Changing the actual menus in WMC can be done via customization power software Media Center Studio. These kinds of customization require additional software or Media Center plug-ins.
Keep in mind that these types of hacks may not work with future updates to Windows Media Center and are, naturally, not supported by Microsoft.
Don't forget to check the Extras Gallery section of WMC. While this area is sparsely populated now, it should grow as more people start using Media Center. Also, check the official Microsoft Windows Media Center plug-ins gallery for other tools, tricks and customizations that have passed at least a minimal level of revenue by Microsoft.