Retrieving Old Emails In Microsoft Outlook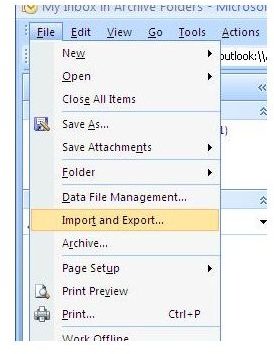 Recovering Lost Emails
Managing your communications from a single client application such as Microsodt Outlook is a great way to stay on top of all of your email accounts, calendar and contacts – but what happens when it all goes missing?
Should some form of disaster strike your computer, you may need to remove Outlook – or worse, reinstall your operating system. This could leave you without a lot of email messages, the loss of which could prove costly.
As you might expect, however, there are steps you can tae to minimise the imact of such a drastic step such as reformatting your hard disk drive. By making regular backups of email data you can prepare for the worst – but even without an intended backup, you can restore email data, as long as you can find it before reformatting your disk.
What Format do You Want to Restore?
How you retrieve old emails in Microsoft Outlook depends on the format they're stored in. Export formats include CSV (comma separated value) files and the more common Outlook PST format.
The default Outlook installation stores all of your emails in a PST file that you should be able to find on your PC by looking in the right temporary directory. You can find it by using the Windows Search function – search for *.pst in the All files and folders option, making sure that Search system folders and Search hidden files and folders are both checked. The new advanced search features in Windows 7 make it even easier to find pst files.
Once you have found the PST file (which should be several megabytes in size), and with Outlook closed, save it somewhere safe.
Other formats that can be used for exporting and importing data in Outlook include Lotus Organizer, Microsoft Access, Microsoft Excel, Outlook Express, Windows Mail, and tab separated values. Not all are suitable for email - some are better used for contacts.
Retrieving Old Emails – Microsoft Outlook Import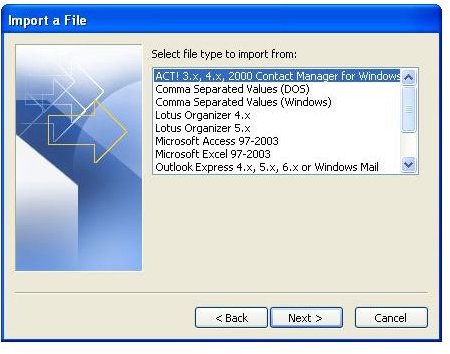 When the time comes to retrieve your old email messages, open Outlook and go to File > Import.
Choose Import from another program or file, click Next, and then select your file type to import. This will probably be PST, but might also be CSV or any other of the supported formats.
Click Next to display a small view of your Outlook folders - here you should decide where to restore your data to. If the data includes contacts, calendar and emails, select the uppermost level (Personal Folders), otherwise choose Inbox.
After clicking Next, you will be able to browse for the import file. Keep an eye on which duplicate options are selected on this screen, then select Finish to begin the process of retrieving your old emails in Microsoft Outlook.
Empty PST Files
If you're using IMAP email, the chances are that you won't need to backup – and hence restore – your emails. IMAP mail servers synchronise your email account folders with a set of remote account folders - this centralised storage solution is a great way to minimise the impact of storing emails on your PC (PST files can grow to hundreds or thousands of gigabytes). As such, you might find your PST file is quite sparse – but reconnecting to your IMAP account will allow your emails to download to your PC once again.