Office 2010 Upgrades Editions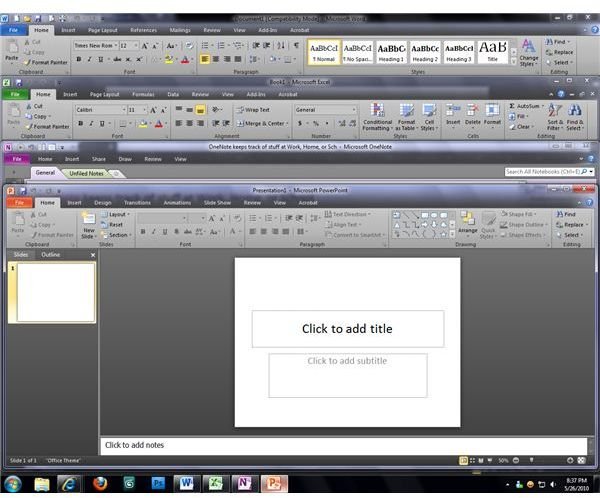 Microsoft Office 2010 Upgrades
Microsoft Office 2010 is scheduled for release on June 15, 2010, and will be available in several different versions. Users who already own Office 2007 or previous versions of Microsoft Office may wish to upgrade their current version of Office instead of purchasing a full retail copy of Office 2010; doing so will not only save them money, but will also save them the hassle of having to uninstall their previous installation of Microsoft Office or installing Office 2010 in a different location on their computer.
Upgrading Office
Microsoft Office 2010 upgrades are available for all versions of Office 2007. Upgrade packages can be used to upgrade any of the Office 2007 editions to their equivalent edition or better. Multiple Office 2007 editions will share the same upgrade equivalent due to there only being four retail versions of Office 2010 as opposed to the eight offered for Office 2007. Due to the substantial changes that were made from previous versions of Office when Office 2007 was introduced, it is not clear whether Office 2010 upgrades will work with Office 2003. It is unlikely that an upgrade path for previous versions of Office will be supported unless those versions are upgraded to Office 2007 first.
Trial Version Upgrades
In addition to the standard upgrades that will be available for previous versions of Microsoft Office, Office 2010 will introduce a new way for pre-loaded and downloaded trial versions of Office 2010 to be activated. Users will be able to buy Office 2010 serial keys in stores and directly from Microsoft, similar to the Windows 7 Anytime Upgrade option that is currently available. The product keys will not be packaged with a software DVD, allowing them to be sold at a discount. Users who purchase these upgrade product keys can use them to activate their trial copy when prompted to do so or can activate it at any time by entering the product key in the "File" tab of the Office 2010 ribbon in any of the trial version's programs.
The Microsoft Office 2010 Technology Guarantee Program
To help make sure that customers are getting the most for their money in regards to upgrades from Office 2007, Microsoft is offering the Microsoft Office 2010 Technology Guarantee Program. This program states that individuals who purchase Office 2007 after March 5, 2010 and activate it before September 30, 2010 will receive a free upgrade to the equivalent version of Office 2010. This guarantee allows users who don't currently have a copy of Microsoft Office to purchase Office 2007 without having to worry about it becoming obsolete when Office 2010 is released. The free upgrades will be available as a download only; though DVD upgrades will be available as part of the program, there will be an additional cost to cover handling and shipping charges.
The free upgrades offered by the Microsoft Office 2010 Technology Guarantee Program are designed to allow users to upgrade from any edition of Office 2007 to the equivalent edition of Office 2010 only. Office Home and Student 2007 purchasers will receive a copy of Office Home and Student 2010, and those who purchase Office Basic 2007 or Office Standard 2007 will receive a copy of Office Home and Business 2010. Office Small Business 2007, Professional 2007, and Ultimate 2007 purchaser will receive a copy of Office Professional 2010. Academic purchasers will receive Office Professional Academic 2010, while Project Standard and Project Professional 2007 purchasers will receive Project Standard and Project Professional 2010 respectively. Purchasers of individual Office 2007 components such as Microsoft Word 2007 and Microsoft OneNote 2007 will receive the 2010 versions of their products only.