How to Download and Use a Microsoft Office Invoice Template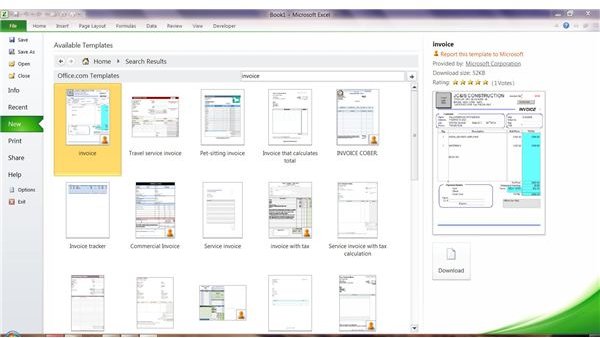 Two Microsoft Office programs have numerous invoice templates available for download. These programs are Word and Excel. There are templates available in different styles and for different purposes. You can choose from a basic template format or you can pick something more decorative.
Download a Template
Open Microsoft Word or Excel. If you are not sure which program to use, you may want to consider the information you will be entering. If you want to import data from another spreadsheet for an invoice, use Excel to find a template. If you want something more basic that you can simply add information to, use Word to find a template.
Click the Office Button or File tab after you open Word or Excel.
Select New when the Office menu opens. The New Document window will open; you can create a new document or search for a Microsoft Office invoice template here.
Enter Invoice in the Microsoft Office Online search bar located at the top of the New Document window and press Enter. A list of templates you can choose from will open.
Choose a template to download. Since there are so many styles to choose from, pick out something that matches up well to your business. If you want to preview a larger image of the template, click the template and a larger photo will show up in the pane to the right of the New Document Window.
Download the template. After you select the template, click the Download button. The template will download and open as a new document or spreadsheet, depending on which program you are using.
Create a Base Invoice Template
After the Microsoft Office invoice template opens, you need to edit it to show your business details. Once you edit the template to reflect your business information, you can save it so you will have a base template to use anytime you want to create an invoice.
Use your mouse to highlight and delete the sample information from the template. Remove anything that doesn't pertain to your business.
Enter your business information in the template. Information you should enter includes your business name, address, phone number, and email address.
Save your work. Click the Office Button or File Tab and select Save As. Enter a name for your template and click Save.
Add Details to the Invoice for a Transaction or Service
After you download and create a base template for your business, you are ready to create an invoice for a particular transaction or service. Once you enter the information for the invoice, you can save the invoice under a different name. This will save you from having to create a new invoice every time you need one.
Enter the information for the person or business to which you are issuing an invoice. Details you should include are the name of the person or business and contact information, such as the mailing address.
Describe the items or services offered. For example, if you are issuing an invoice for items sold in your computer store, list the details and prices of the items sold.
Save the invoice. Click the Office Button or File tab and select Save As. Enter a name for the invoice; do not use the same name you used to save the base invoice template. Click Save after entering a name for the invoice. You can now print or email the invoice.
References