User Guide For Converting A Microsoft Money File To Excel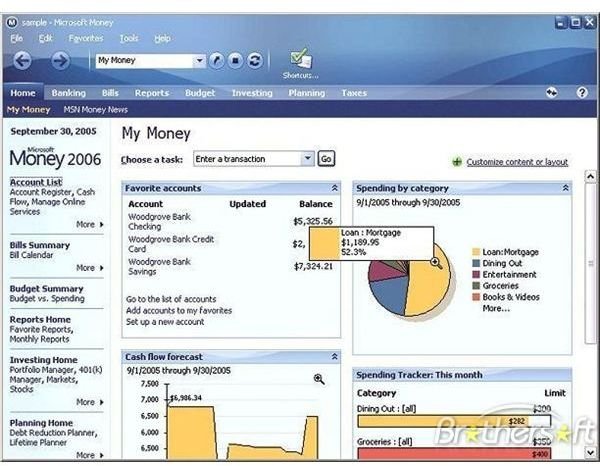 What is Microsoft Money?
If you've just found yourself receiving a file in .MNY format, and need to open it in Microsoft Excel, you might just run into problems.
These files were created in Microsoft Money, formerly a personal finance package that is no longer produced. Following release of Money 2007, Microsoft announced in 2009 that the software would be discontinued; product activation servers will be brought offline on January 31, 2011. Whenever a product goes end of life, there is a mad rush to upgrade to the next or latest version; however, this is not possible with Microsoft Money - and the only similar application from Microsoft is Excel.
As a result, there is a need to convert data saved in Microsoft Money to Excel format. There are two ways of doing this – using functions built into either application, or using a third party application.
Manually Converting a Microsoft Money File to Excel
Both Microsoft Money and Microsoft Excel feature import and export functions, and these can be utilised to convert data from one application to the other.
The first step in converting a Microsoft Money file to Excel is to export a report in Money. The report you create should include all of the data you wish to export. Right-click the report and select Export, then select the location you wish to save the file to – select a folder you can easily find, and give the file a meaningful name.
Once complete, you're ready to move onto the second step – importing the data.
In Excel, create a new workbook, and on the Data menu select Import External Data. Depending on your version of Excel, you will then need to select either Import Data or Import text File.
Use the dialogue box to browse for the export file you created in Money. Once selected, the Text Import Wizard will begin. You will need to follow this to complete the import.
On the first screen, select Delimited - Characters such as commas or tabs separate and then click Next; on the second screen, under Delimiters select Tab, and click Next to progress; finally, click Finish.
Your .MNY file is now ready for use in Microsoft Excel!
Convert Using MoneyLink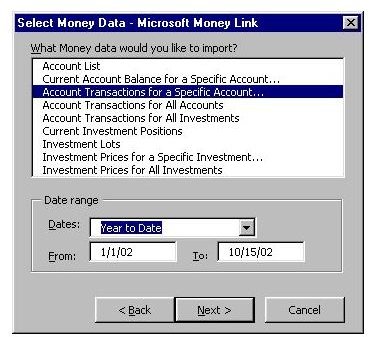 A quicker procedure is to use UltraSoft MoneyLink, a free to use download with versions for use with Microsoft Money 2002 and later, all designed to export to .XLS format for use in any version of Excel.
Using this conversion tool, you can manipulate the converted data far more effectively; for instance, you can create pivot tables from imported account transactions, or create graphs based on imported investment price data.
Once the conversion tool has been installed, password protected Microsoft Money files can be opened, and imports controlled via an additional toolbar menu that MoneyLink adds into Excel.
You can download MoneyLink free from UltraSoft's website - www.ultrasoft.com