Troubleshooting the File is Corrupt Windows Server Update Error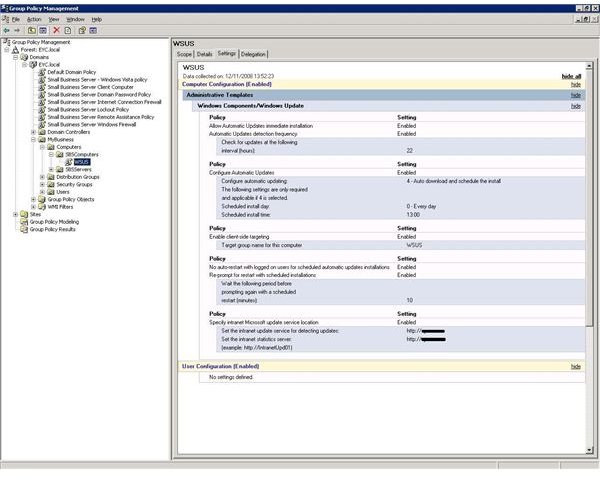 If you're running Windows Server with the WSUS (Windows Server Update Services) system, you might find that certain (or even all) downloaded updates get so far… then stop.
The effect of this is that your server can remain unpatched – not only is it a frustrating glitch, it also has security implications. When working, WSUS is effective and seamless; with errors of this sort, it can literally become a liability.
Such an error might read:
Content file download failed. Reason: The client does not have sufficient access rights to the requested server object
Two common methods have been established to resolve this fault, which tends to be connected with access privileges to various locations both online and offline.
Permissions and Privileges
The first thing to check are the permissions on the drive where the Windows Server Update Services downloads are stored. As an automated service, this is something that your system administrator should be aware of and able to amend as necessary.
Downloads are stored in the \wsus\WsusContent folder on your operating system hard drive, along with the various subdirectories – the Network Service account (which is used for managing downloads and their distribution) should have Modify rights to these locations.
Amendments to the folder permissions can be made by accessing the Properties of the folder, using the Security tab. Note that to make all child folders carry the same access properties, you will need to choose the option Inherit from parent the permission entries that apply to child objects.
By awarding the correct privileges to these folders and their files, the Network Service account can now correctly manage the downloads, which should bring to an end any issues you have had in completing the downloads.
Download from the Right URL
You may also experience a "file is corrupt" error in Windows Server Update Service if the source servers are blocked. Downloads from the Microsoft servers are as susceptible from over-enthusiastic security as stored updates that are ready to be applied – and blocking server URLs will result in WSUS displaying errors when downloading updates.
Resolving these errors requires access to the URLs on which the Windows Server updates are stored – so these locations will need permitting by your security software:
https://*.download.windowsupdate.com
Note that the first entry in this list – which should be permitted via your firewalls – is configured to accept international variations, such as https://au.download.windowsupdate.com.
With access granted to these locations, further issues with successful downloads of WSUS updates should be avoided. Ideally, once correctly configured, a backup should be made of the files and folders involved as a disaster recovery contingency.