Does Microsoft PowerPoint accept files from Microsoft Access?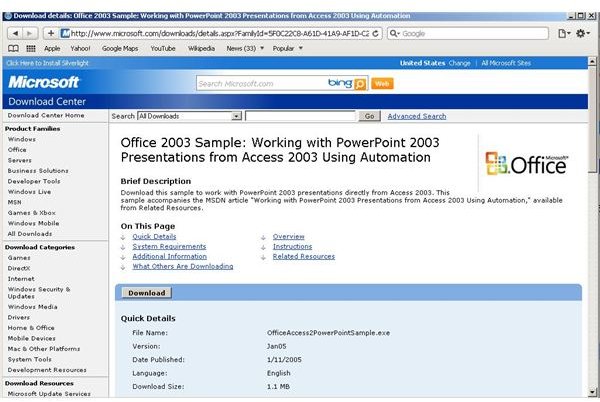 PowerPoint and Access Overview
Some people find that they need to prepare a series of identical PowerPoint presentations that differ only by data that change over time. Pulling information from a Microsoft Access database would automate this process, eliminating a lot of redundant manual work. Although PowerPoint doesn't naturally link to Access, a record set can be created in Access that will fill in a PowerPoint slide with real time data. Another method we will look at is to link an Access table to an Excel spreadsheet and then to PowerPoint.
Microsoft Download: Working with PowerPoint from Access
If you want to save a lot of time, download a free sample file from Microsoft that demonstrates how to create PowerPoint slides based on dynamic data in Microsoft Access. The download is designed for Office 2003, but it also works well in Office 2007.
1. Visit the Microsoft Download page.
2. Click the Download button.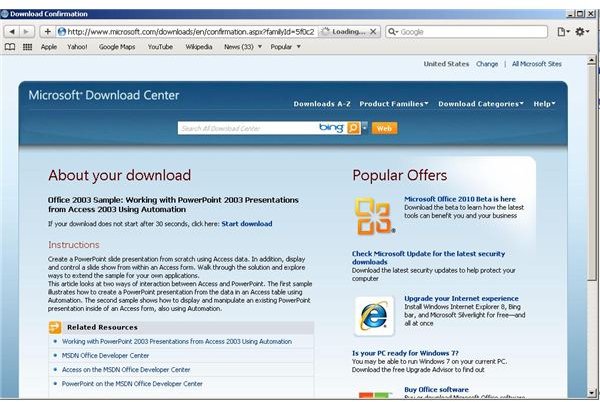 3. If download does not start automatically, click the Start Download"\ link.
4. When download completes, double click on the file to install. The sample files will usually install at this location: https://www.brighthub.com/computing/hardware/articles/65825.aspx
About the Microsoft sample file
The sample database provided in the download combines static data in PowerPoint with dynamic data in Access. Open the Access file, Access2PowerPoint.mdb, by double-clicking it in Windows Explorer. When opened, enable macros and then visit the Tables tab where you will see a table called Employees. The Forms tab has two forms: CreateFromAccessData and UseExistingPresentation. You need to look at the CreateFromAccessData form by double-clicking it.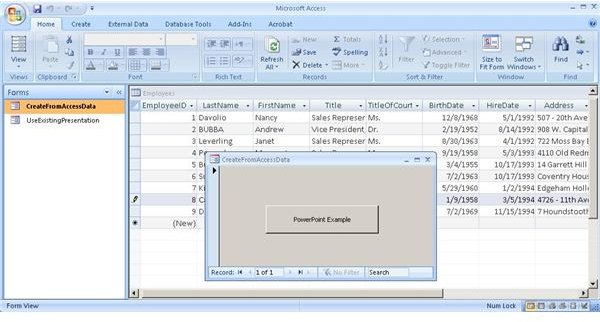 When the form opens, click the PowerPoint Example button. When you do this, a PowerPoint presentation will open with each slide containing data from the Employees table.
How it Works
A Visual Basic script is used to open PowerPoint, create slides, and insert data into the slides from the Employees table. The script is quite lengthy and can be modified by opening the form and the control in code view.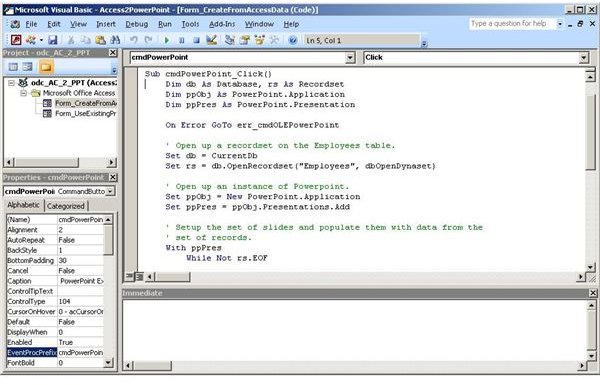 An Easier Way: Connecting PowerPoint to Access via Excel
Many people don't have the willpower, knowledge, or the time to be messing around with Visual Basic, so there is another way to link a PowerPoint presentation to Microsoft Access data. This involves linking an Excel spreadsheet to a table in Access. You can do this by clicking the Data tab in Excel and then From Access in the Get External Data group.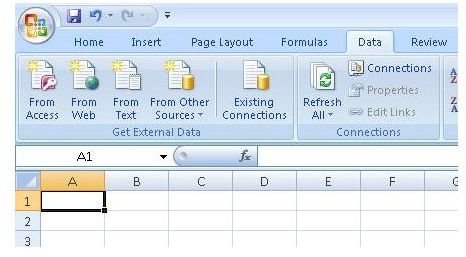 Now you can link your Excel spreadsheet to the Employees table in the Access database we used earlier.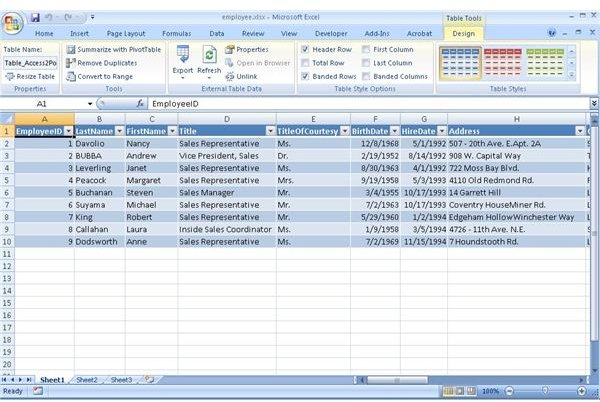 Because the table in Access is linked to the worksheet in Excel, the data will be current every time it is accessed. Now all you do is select the area of the worksheet you wish to include in your PowerPoint presentation and copy it. In PowerPoint, click on the Home tab and then click the down arrow underneath the Paste icon. Choose Paste Special.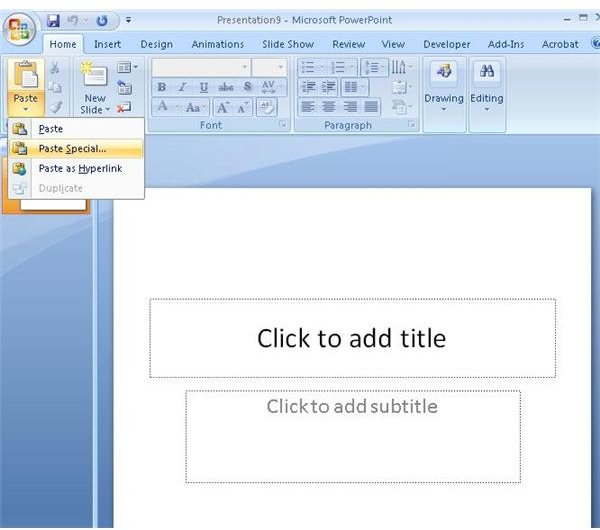 Next, choose Microsoft Excel Worksheet Object and Paste Link from the Paste Special dialog box and then click OK.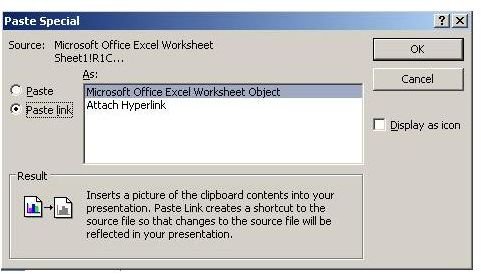 You now have a link to your Excel data (which in turn is linked to your Access data) in PowerPoint. To update the data, right click on the table and choose Update Link.