Using CV Templates For Microsoft Works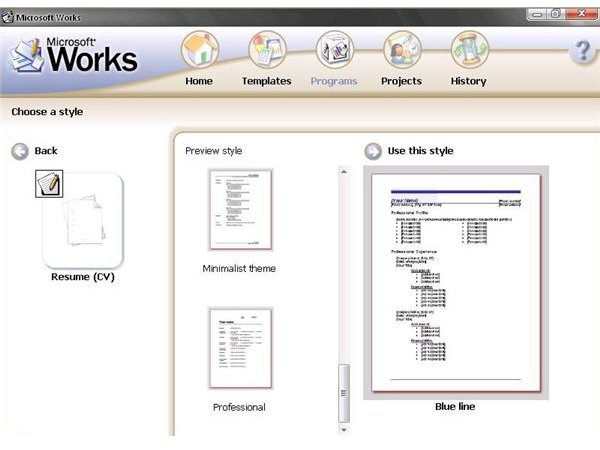 Using Microsoft Works Wordprocessor
Microsoft Works is a stripped-down productivity suite that often ships with PCs and laptops. While not as comprehensive as Microsoft Word, it nevertheless features a selection of useful tools, including a word processor (using WPS format) and spreadsheet.
Due to the difference in format between the Works word processor and the Microsoft Word premium word processor, templates designed for use with the more popular product are not compatible with Microsoft Works.
Should you be in the process of embarking on a specific word processing task, and need a particular template or help laying out a document, a quality Word template would come in handy.
So it is a relief to find that there are already some suitable templates built into Microsoft Works – but where are they?
Finding CV Templates for Microsoft Works
Microsoft Works does feature suitable resume templates – but where would you find them?
After you have opened the Microsoft Works word processor, go to the File menu and click New.
Works prompts you to start a new document – and provides the opportunity to select a template. Works features a surprising number of templates, from newsletters to school reports, travel journals to party invitations.
To select CV templates for Microsoft Works, scroll down to Resume – the list is organized alphabetically, so this should be found at the bottom of the menu.
When you click on Resume, a selection of eight CV templates is presented:
Blue line
Chronological resume
Entry-level resume
Fading green squares
Functional resume
Laptop
Minimalist theme
Professional
To select your template of choice, click on the Use This Template option.
Using Templates in Microsoft Works
With your template selected, it is time to begin filling in your CV or resume. All word processor templates for Microsoft Works use the same format of providing a general layout with sections for you to fill in with your own details.
As you can see from the example here, the Microsoft Works resume template requires you to fill in your name, contact details, professional experience – all of the things you would expect to find in a resume – and generally speaking you should be aiming to delete any text found in [square brackets], replacing it with your own information.
Resume Templates for all Requirements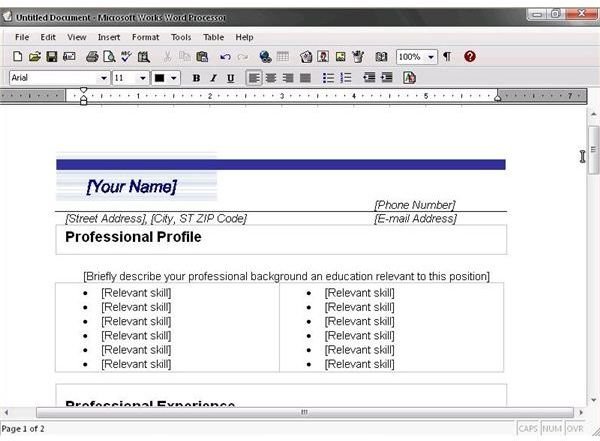 Thanks to the popularity of Microsoft Word, there are few templates for Works' word processor available online.
This should not be a problem, however – Microsoft Works offers eight resume/CV templates to suit all requirements.
Whether you're planning on presenting your employment and educational experience in a minimalist style or hoping it will look more professional with a traditional look, the templates included in Works (and there are suitable templates for other document types, not just CVs and resumes) are designed to suit any requirement.