Microsoft Office 2010 File Formats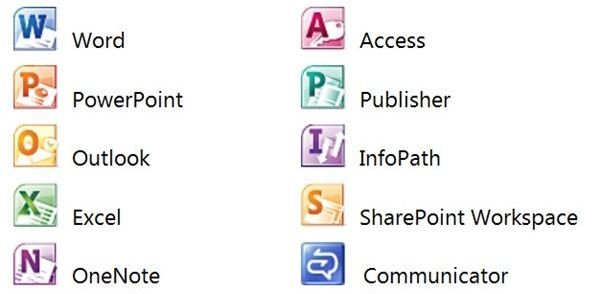 Intoduction
Microsoft Office 2010 changes the way that Office looks again. In Office 2007, we were introduced to some very differently styled menus. 2010 brings back more of a classic feel but greatly expands upon it. Included in that expansion is the support of new file types and broadening what existing file types are supported so that when documents are created they may be personalized in greater detail. It allows you to more effectively make a document yours.
There are a lot of formats in Office 2010, old and new, including: CTDOC, CTXLS, CUSTOMUI, CUSTOMUI2, DOC, DOCX, DSEXPORT, FFCHGTR, ODCFF, ODRAW, ODRAWXML, OE376, OFCGLOS, OFFCRYPTO, OFFDI, OFFMACRO, OFFMACRO2, OFORMS, OFREF, OGRAPH, 0I29500, 0NE, ONESTORE, OODF, OODF2, OSHARED, OVBA, PPT, PPTX, PST, WORDLFF, XLS, XLSB, and XLSX. Quite the mouthful, so I will stick to the three big applications of Office: Word, PowerPoint, and Excel.
All of the technical information below comes directly from Microsoft.
Word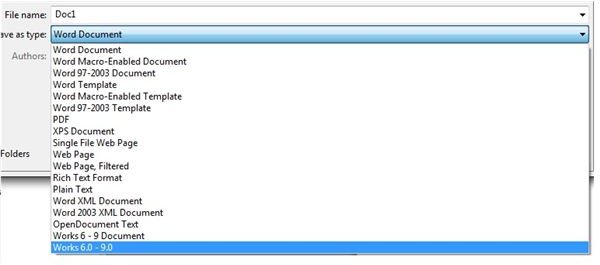 There are two big formats for Microsoft Word: DOC and DOCX. However there are numerous file types that you can save your file as included in the program as well. The picture to the left shows all the different ways that you may save a Word 2010 file. DOC files are the same as they have been, they save your file in a very general format that can be used across other programs. DOCX is the newer version of that and can hold more information. It is to support Microsoft Office Open XML.
DOCX contains attributes and elements that are sorted into six groups.
The first group contains the vocabulary for describing formatting properties of text by adding elements for specifying text effects such as shadow, glow, reflection, and also by adding elements for specifying text properties such as ligatures or how spacing is displayed.
The second group contains the settings that are applied to a word processing document by adding two settings to govern how images are saved and two settings used for when the document is written by multiple people.
The third group provides specifications for two more kinds of structured document tags
The fourth group specifies three additional attributes to appear on a paragraph or table rows. These allow for the identification of paragraphs or table rows and about the presence of spelling mistakes within them.
The fifth group specifies eight new elements that can be used when conflicting edits are present in a document written by multiple people
The sixth group specifies a new attribute to appear on picture and embedded objects to provide an identifier for them.
Excel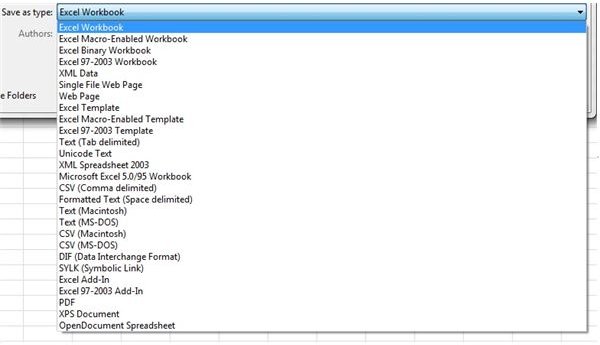 Excel has numerous ways to save a file as well. Microsoft's formats are XLS, XLSB and XLSX. To the left is a picture that denotes the available file types for Excel.
XLS is the standard format for Excel files. You may save it as a new version or even make it compatible with older versions of Excel. XLSB is another way to save it that will create a larger but potentially a file that works more efficiently in Excel. It is a larger file because it is saved in Binary as opposed to the standard compressed format. XLSX is the new Open XML format that is similar to the DOCX format in Word. One thing to note for these Open XML formats is that they are not compatible with Open Office, which is another Open XML format. They are simply coded and compressed another way.
PowerPoint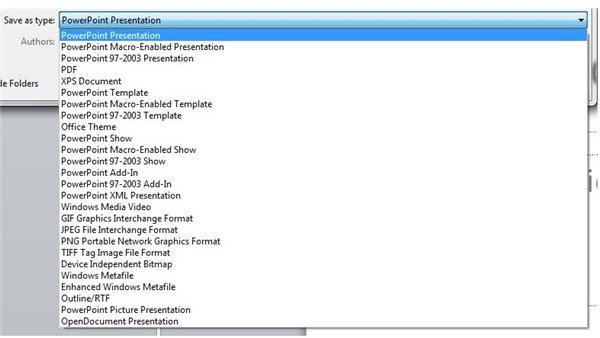 PowerPoint essentially is the same as Excel in regards to file formats. It has the standard PPT and PPTX formats. These new .—X files are basically the new file types. They are more detailed and also more compact so it is really a win in both areas. As with the previous two entries you will see a list to the left of the available formats that you may save your presentation as.
Conclusion
As much as they say things change, they really do stay the same. These new formats are just the next step in efficiency as the formats before them were. We can expect more functionality for less year by year.