Windows 7 and iTunes Compatibility - Are There Issues?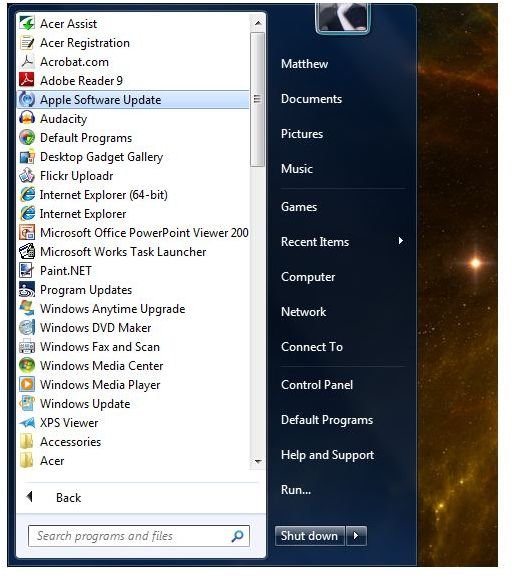 Operating System Design
Those who have used Windows 7 without a doubt notice several similarities with Windows Vista regarding the overall design and feel of the operating system. Certain Windows 7 users (myself included) thus far have been able to get by with using Windows Vista drivers, and even some programs designed for use with Windows Vista. This may not be the case for every hardware and software available, though. Fortunately, iTunes is fully supported and developed for Windows 7, so in regards to compatibility with iTunes and even the iPod - Apple is continuously releasing updates that will keep iTunes running smoothly.
Download
If you visit the iTunes download page from Apple, you will notice that there are two downloadable versions you can obtain for Windows. The standard download for XP, Vista and 7, and another one for users with 64-bit operating systems. Now, the iTunes program itself is 32-bit, but it will still run on a 64-bit operating system. The biggest difference is driver support. If you are using a 64-bit version of Windows 7, you will naturally wish to choose the 64-bit download option. This will ensure that you are getting proper support while syncing to your iPod.
If you haven't downloaded iTunes yet, you can do so from here (this link will take you to the Apple website). Note that you do not need to have an iPod in order to use iTunes itself. The iPod is just hardware that iTunes syncs to. However, keep in mind that if you decide to purchase digital downloads from the iTunes store, the file format is only accessible in iTunes and can only be played back on an iPod, and not any other MP3 player.
Overall concern?
Considering that the version of iTunes that Apple releases is usable from XP all the way to 7 shows that they have been working hard to make sure that your hardware works properly with your operating system in regards to driver support. As well, there are frequent updates to iTunes for all three active Windows operating systems, and some of these issues address compatibility issues not only with the operating system, but sometimes with Apple hardware, too.
**
Apple Software Update, which comes when you install iTunes, normally notifies you whenever an update is available. But if you want to check for updates, you can do so manually. The program is located in the Start menu under All Programs. The list of programs is alphabetical, and is not included in any folders in the Start menu, so it should be near the very top once you get into All Programs.
For the most part, there shouldn't be any serious compatibility issues in the move from Windows Vista to Windows 7, or even from Windows XP to Windows 7. iTunes and iPod are fully compatible with Windows 7, either 32-bit or 64-bit. But keep your programs updated, as some fixes include compatibility issues.