Comparison - Office 2010 vs OpenOffice

Office 2010 vs OpenOffice
If you're after the basic office applications of word processor, spreadsheet, and presentation creator, you would probably opt for the expensive Microsoft Office – but did you know there is a popular free office suite, OpenOffice?
Although OpenOffice is free, Microsoft Office 2010 is also currently available for free as a beta download in advance of the full release. With a collection of office applications included with each, designed to maximize workplace productivity, Office 2010 and OpenOffice are both popular options.
But which is best? We'll compare each of the key applications…
Word vs Writer
Writer looks and feels like an older version of Microsoft Word, featuring a standard, traditional toolbar instead of the now commonplace ribbon menu found in Microsoft Office 2010. As such, it is probably very suitable for anyone who doesn't wish to move to the new version of Microsoft's suite of tools.
With a range of standard word processing tools, the ability to insert images, use non-standard page templates and with full spell-checker dictionary, there is very little to distinguish the two apps. You can even save documents in Writer in Microsoft Word .DOC format.
All in all, the speed and performance of Word 2010 wins out on this comparison, although OpenOffice Writer is very good.
Excel vs Calc
As with Writer, Calc feels like an older version of Microsoft Office with its simple to use menu system. In contrast, Excel has possibly the worst example of Microsoft's vaunted ribbon menu method. The ribbon menu effectively makes a regular user rethink the way they work, as many menu options have been moved and grouped in a slightly illogical manner.
Mainly due to this and Calc's ease of use, OpenOffice gets the point in this instance, especially given the ease with which graphs can be created and the ability to save in .XLS format for sharing with a Microsoft Office user.
PowerPoint vs Impress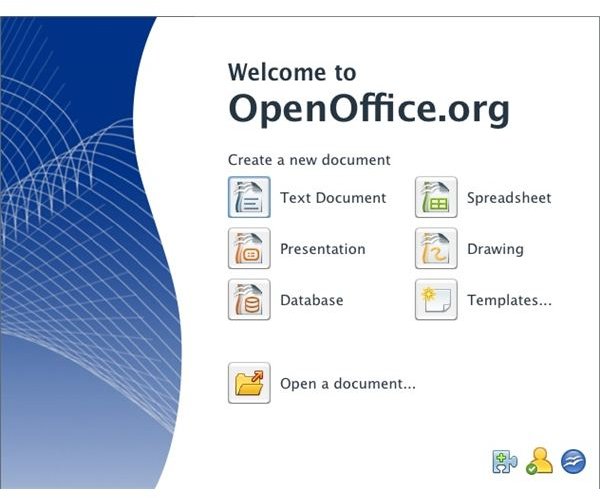 PowerPoint is shorthand for graphical presentations delivered via laptop and projector. It is a popular tool, but one that has hit an early wall – it's quite difficult to improve on a tool that is already very good. Unlike Excel and Word, PowerPoint is effectively a niche product, very specific and therefore limited in what it can and needs to do. Effectively in terms of features it has already reached perfection.
OpenOffice's own Impress presentation tool is very similar to PowerPoint, offering some of the key design and transition commands at a document level (although these can be adjusted later) and providing almost all of the same options, resulting in an almost identical experience with PowerPoint.
The Rest
Beyond the core three apps, there are of course differences between the two operations, differences that can affect which one you choose. For instance Microsoft Office 2010 includes a new version of Outlook, although there is no comparative application in OpenOffice. While Draw and Microsoft Picture Manager can be compared, the latter is more of an image editor than creator.
The most unusual inclusion in OpenOffice is Base, a new open source desktop database application. Given that Microsoft Access is used less frequently as publishers and organizations move towards SQL as a primary database solution, it seems strange that OpenOffice should include this application, effectively 10 years late.
To sum up – two very closely matched office products. If you're desperate for the time management and communication benefits Microsoft Outlook delivers, you should find Office 2010 is the one for you. Otherwise, OpenOffice might just provide what you need for none of the cost.