Learn How to Improve the Performance of Your PC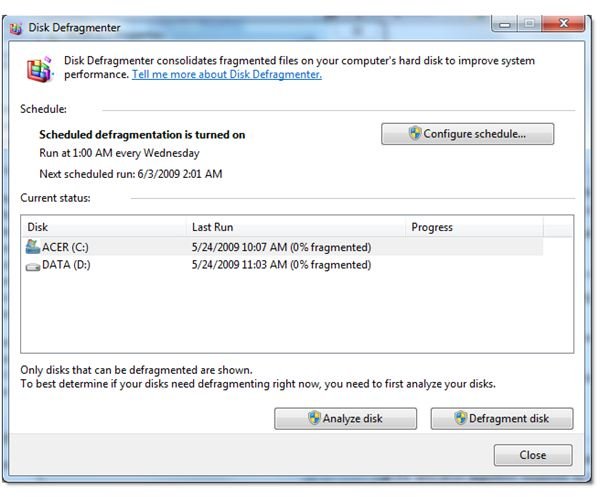 Get Your Computer Running Like New Again
This guide will help you get the most out of your computer. Even new computers can have problems with slow boot times, response times when running applications or errors, etc. Over time any computer can start to have problems. Below are steps you can take to get your computer running like new again.
Before You Begin
You will need a few things before we can get started improving the performance of your PC.
Virus Software
Spyware Software
Other Miscellaneous Software
Improve Performance
Protect your computer against spyware
SPYWARE
Spyware can cause many problems on a computer including slowdowns and errors. Basically Spyware was developed to collect your personal information unbeknownst to you. You can get Spyware from websites that you visit or clicking a link in a pop-up window. Here are some ways you get spyware:
Some applications install spyware during the installation. During the installation it will ask you to download other applications along with the software. When you click the check box to download you will get more than the program you initially wanted. This happens a lot in free versions of software.
Browser add-ons are software that will "enhance" your browser. These add-ons include toolbars, search boxes or animated pals such as the Bonzi Buddy. You are not only getting the add-on but spyware to go with it. The worse add-ons are browser hijackers. This type of software is particularly hard to remove from your system.
A warning will pop-up on your screen alerting you that you have spyware or even a virus. There will be a link to click on that will "fix" this problem. When you click on the link spyware will install on your computer. It will also be hard to exit out of this web page.
Spyware can be dangerous as some spyware retrieves information such as bank log ins or even your Social Security Number. It is very important that you recognize spyware on your computer and remove it as soon as possible. Here are some good spyware scanners you can use to combat these nasty bugs.
Ad-aware
Ad-Aware has a free and paid version. The free version has been one of the most popular spyware software for the past few years. It is very simple to use and does a great job finding and killing spyware.
SuperAntiSpyware
SuperAntiSpyware is highly effective spyware remover. It is one of the best spyware removel programs today with real-time protection. This software detects and removes Spyware, Malware, Worms, KeyLoggers and many other threats.
MalwareBytes AntiMalware
Malwarebytes Anti-Malware is a very effective freeware antispyware program. It has quick scans which is a plus with spyware removers.
A-Squared
A-Squared is a very effective spyware removal tool. One of the good things about this software is that it includes a virus scanner along with the spyware scanner.
Check for Viruses
A virus can wreak havoc on a computer and the best way to deal with them is to prevent them in the first place. It is best to update and run a scan once a day. Most virus software allows you to set a schedule of when to update and run a scan.
Always run antivirus software and keep it up to date. Even if you take such precautions, however, it's possible for your PC to become infected.
Defrag your Hard Disk
Files can become fragmented over time. When you install and uninstall programs files are moved around and the hard drive will have a harder time finding them. Running the defragment tool in Windows will put these files back together, and will make your computer faster.
The defrag tool in Windows 7 is different than Windows Vista and Windows XP. Below is a step-by-step guide on how to defrag in Windows 7.
Click the Start Button and click the Programs icon. Next click the System Tools icon and select Disk Defragmentation. The Disk Defragmentation window will open.
Click the Analyze button. You will get results that will either say that your hard drive does not need defragmentation or it does. If the results say that you do then proceed to the next step.
Click the Defragment disk button and let it run. It can take anywhere from 30 minutes to several hours depending upon the size of your hard drive, how bad your files are fragmented, the speed of your processor, etc.
When it has finished defragmenting close the window.
Delete Unused Files
Many new computers have extra programs installed that you did not order. Trial editions of virus software or spyware software, for example, will be loaded onto your computer. It will run for the trial period, usually 30 days, and then ask you for money to continue the program. If you want the software you can pay for it and keep it. If you don't keeping it sitting around on y our computer could slow your computer down and it's best to remove it.
Maybe you downloaded a program last year that worked great for you then but now never use it. Programs like these and the pre-installed programs can cause slowness and the steps below will guide you through removing them.
Uninstall or Change a Program
If there are programs you don't use or need to free up some disk space it is easy to uninstall these programs using Programs and Features in Windows 7. You can also change programs such as adding or removing certain options.
Click the Start button and select Control Panel. Select Programs and then select Programs and Features. Select the program you want to remove and click Uninstall. To change a program, if the option is available, click Change or Repair.
Limit how many programs run at startup
Some programs are set to start automatically when you start Windows 7. Some programs, like your firewall or anti-virus should start up. Other programs are set to start up when you install them. The programs that you do not use should not start up when you start Windows. Turning these off can speed up your computer.
You can see some of the programs that start up with your computer by looking at the task bar. The icons on the task bar are the programs that start up with Windows 7. You can hover over each icon with your mouse and it will show you the name of the program. If you don't want it right click on the icon and you will see settings or open. Choose either one and choose to turn off at start up. If this does not work double click on the icon and the program will open. There will be a setting within the program that will allow you to turn it off.
Some programs that start up will not show up in the task bar. Windows 7 has a System Configuration Utility that allows you to see what these programs are. Using this utility you will be able to turn off programs you do not want to start up.
From the Start menu enter msconfig in the text box. Click the Startup tab and you will see what programs automatically start up. There is a checkbox next to each item. If you do not need a program simply put a check in the box. This will stop these programs from running but will not uninstall them.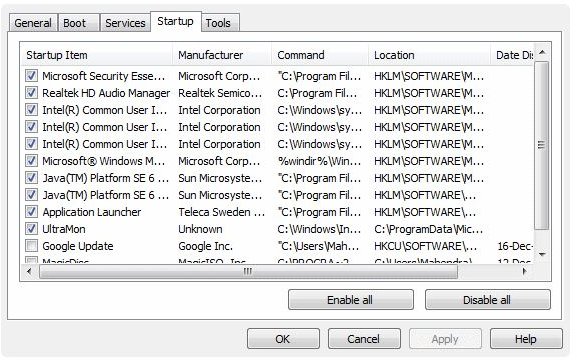 Clean Up Hard Disk
Clean up your hard disk
Cookies, temporary files, etc. take up disk space on your hard drive. Windows has a Disk Cleanup utility that will remove these files for you. It will remove temporary files and also empty the Recycle Bin. It also removes other system files that you don't use. Below are step-by-step instructions on how to use this Utility.
Click the Start button and you will see a search box. In this search box type Disk Cleanup and you will get a list of programs. Within this list click on Disk Cleanup and there will be a list of the hard drives on your computer. Click the hard drive that you want to clean up and click OK. A Disk Cleanup dialog box will open. Click the Disk Cleanup tab and select the check boxes for the files that you want to delete, and then click OK. Click Delete files and let it run.