How to Download Free PowerPoint Templates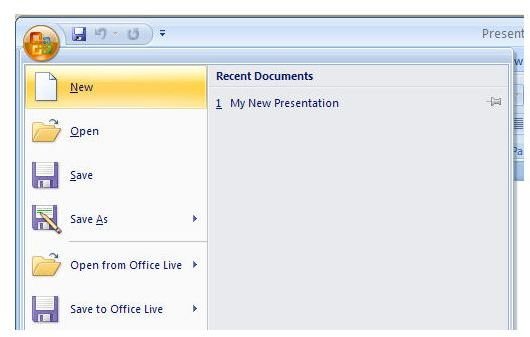 As we talked about in Part 1 of this series, one of the best places to obtain free PowerPoint templates is the Microsoft Office Online Download Center. Not only is this one of the safest resources on the Internet, but you can also download templates from this site without leaving the PowerPoint application.
Accessing Microsoft Office Online Templates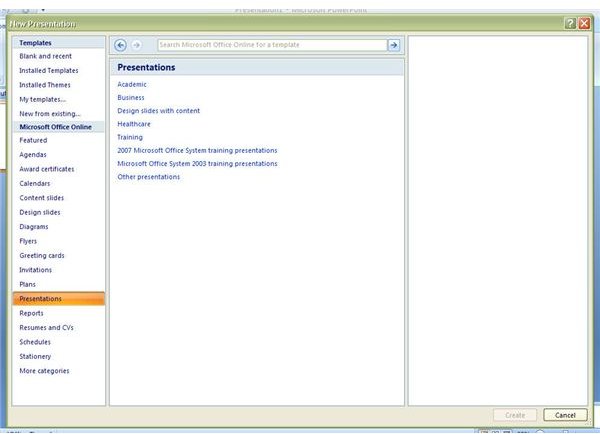 To begin, click on the Office button and choose New as shown in the first figure above. This will bring up the New Presentation window. In this window, click on Presentations under Microsoft Office Online as shown in the second screenshot above. A list of categories will appear to help you narrow down your search for presentation templates. This is the same category list that you would see if you went directly to the Microsoft Office Online web site looking for PowerPoint templates.
Selecting a PowerPoint Template for Download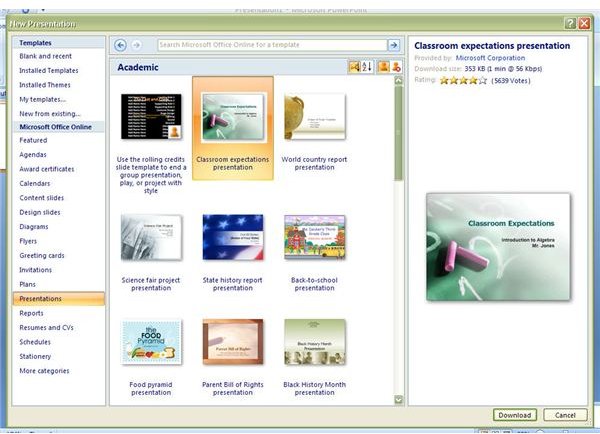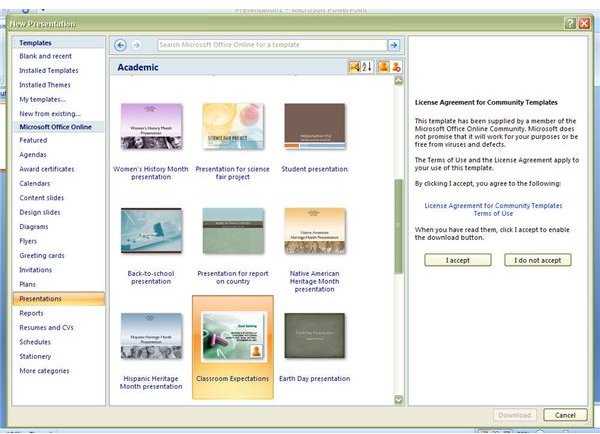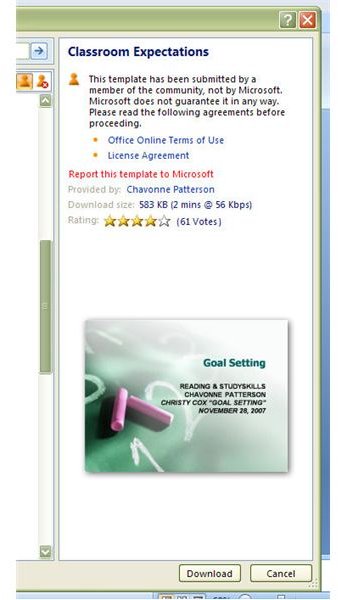 You can choose any category here, but we'll go ahead and select Academic to use as an example. There are two types of templates available at the Office Online site – those created by Microsoft and those shared by community users. To see a larger preview of any template created by Microsoft (see the first image above), click on the thumbnail in the center panel of the window and the larger view will be shown in the right panel.
Before you can even preview a template created by a community user (see the second screenshot above), you'll have to agree that you won't hold Microsoft responsible for any problems you might have with the template. Click "I accept" after you've read the license agreement. This will not start the download process yet. However, it will bring up the template in the right preview pane where you can see a larger version of the title slide as well as some information about the author, file size, and rating of the template. Take a look at the third screenshot above for an example of this.
If you have worries about how safe a community-created template is for download, consider the ratings shown on the preview panel. A high number of votes with a decent rating is a good indication that several others have downloaded this template and had no problems with it. If you ever do experience a problem with a template or believe that it contains material unfit for general view, click on "Report this template to Microsoft" so that the problem can be investigated.
Downloading the Template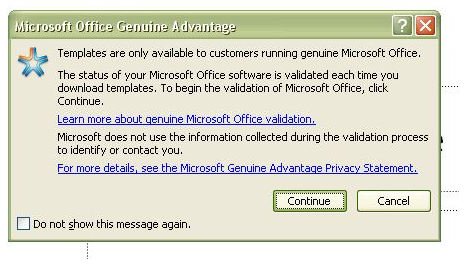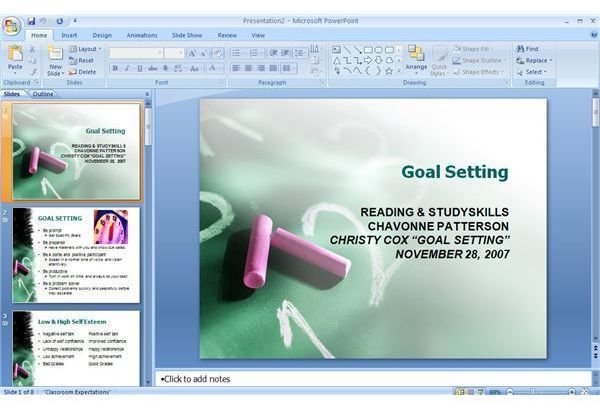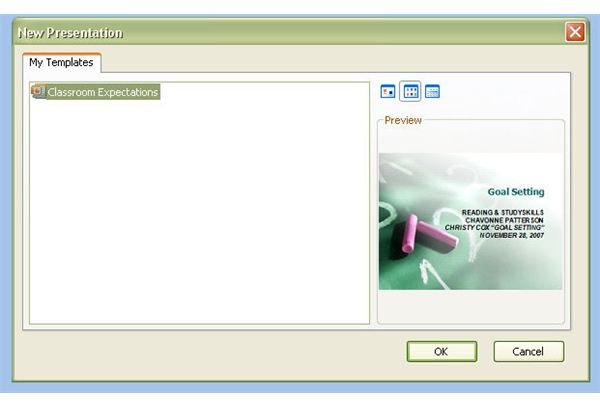 Once you've picked the template you want to use, click the Download button. Before you can actually download the template you may have to verify that you're running a genuine copy of Microsoft Office. If the Microsoft Office Genuine Advantage pop-up box appears (see the first image above), click Continue and wait for Microsoft to validate your software.
After the download is complete, the template will automatically open in PowerPoint as a new presentation. Also, a copy of the template will be added to the My Templates folder of PowerPoint so you won't have to worry about downloading it again if you decide to use the same template in a later presentation.
For more tips and tricks, be sure to browse through the other titles in Bright Hub's library of PowerPoint user guides and tutorials. New and updated articles are being published on a regular basis, so bookmark us and check back often.
This post is part of the series: Free PowerPoint Templates
In this series of articles, we discuss how and where to find free PowerPoint templates. In addition, we offer up some tips and tricks on how to download and install these templates so they'll be ready to use as soon as possible.