Setup Windows Media Center: Install WMC and Configure in Windows 7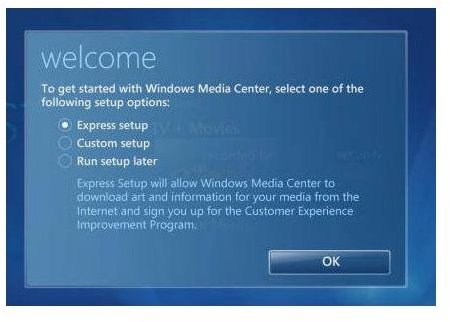 Getting Windows Media Center
Getting Windows Media Center is tougher than you might imagine, especially if you are running one of Microsoft's previous operating systems. Windows Media Center was only offered in specific versions of Windows XP and Windows Vista. For Windows XP, Media Center comes on the Windows XP Media Center Edition. For Windows Vista, Media Center comes only on the Vista Home Premium and Vista Ultimate editions.
There was a Windows Media Center TV Pack released by Microsoft in 2008 which allows for WMC to be installed onto other versions of Vista. However, it was only released to computer manufacturers and developers, and they can no longer get the Media Center TV Pack through their MSDN subscription so it would be a rare find indeed.
Things are better for Windows 7 users. Windows Media Center comes installed on all of the regularly available retail versions of Windows 7 including Home Premium, Professional, and Ultimate, as well as on the Enterprise edition licensed only to businesses. Not surprisingly, it is not available on the stripped down Windows 7 Starter Edition.
Since, with the exception of devs who can likely handle their own installs, you either already have Windows Media Center installed along with Windows it self, or can't install it whatsoever, we are going to move right ahead to setup.
Windows Media Center Setup
Installing Windows Media Center is remarkably easy for such a powerful multimedia software package. This is largely the result of there being a finite set of functionality that applies to a media player. Media Center is not for creating or editing multimedia, so the only necessary functions are the ability to find and play media.
There are two ways to finish installing Windows Media Center. The first option is Express Setup, which like most installation programs pre-loads the most common settings with little interaction from the user. For users who choose Express Setup, WMC will be set to automatically download media info from the Internet, and will also be set to set Microsoft usage data via the Customer Experience Improvement Program. For users who want a little more control over when their programs send and receive data out on the Internet, the Custom option is the way to go.
Custom Setup consists of two parts, required setup and optional setup. The required setup asks whether to join the Customer Experience Program and whether to download media information online. Optional setup provides the ability to adjust audio and video settings including aspect ratio, screen resolution, and speaker setup. For users with a basic multimedia setup (those without surround sound or a television attached to the computer) will find the default settings correct in most cases.
Lastly, the user can setup the Windows Media Center Libraries. Libraries are the locations where WMC will look for and index the various types of media files such as audio, pictures, and video.
For users looking for additional multimedia experiences, WMC has several extensions which can be installed as well. The most popular extension is the Netflix integration extension which allows Netflix customers to search for movies via the service that can be streamed directly into Windows Media Center.
Whether you tweak WMC out for a powerful multimedia system, or you just use it for a fun, friendly, multimedia experience on your home computer, Windows Media Center is a great new addition to Windows 7.