Windows 7 Search Advanced Options - Tips, Setup, and Operators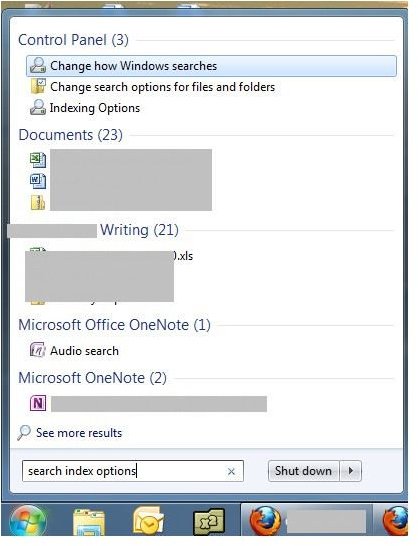 Windows 7 Search Functionality
Windows XP came with basic search functionality built into the operating system. As long as you got part of the file name or folder name right, chances are the little cartoon dog would find what you were looking for. Of course, if the term was common on your PC you might have had to scroll around a bit to find it.
When Google Desktop came thundering down onto the computer scene offering to search and find not just file names and directory names, but also words within your documents, or even words inside of your EMAIL, Microsoft realized that it had left open the backdoor unlocked for a Google attack on the desktop. In response, the company built more search capabilities into Windows Vista. However, the constant indexing by Vista drew scorn from the user community who felt it slowed down their computers and left their hard drives continuously running and chattering away.
An effort to update the search functionality of Windows XP computers sneaked a search update process into numerous Microsoft downloads called Seaport. The Seaport.exe process running all the time in the background of XP unleashed a torrent of users who wondered: What is Seaport.exe service? Is it a virus? And, finally, how to remove Seaport from my computer?
With Windows 7, Microsoft seems to have finally gotten desktop searching right.
Users can access search immediately from the start menu without having to run the search utility first. Windows 7 search can find not only file and folders, but also words inside of them, and inside of email too. Best of all, Windows 7 search can help you find Windows 7 utilities and features when they can't be found because Microsoft decided to go with Control Panel for Dummies as a system management interface.
Advanced Windows 7 Search
While the default search installed with Windows 7 will be fine for most users, power users, or regular users of the search function will be pleased to discover some of the advanced capabilities of search in Windows 7.
The search functionality of Windows 7 is high configurable which can make it even more powerful for advanced users. One of the most important options is the ability to control exactly what search indexes. Instead of the computer's hard drive running constantly as search indexes every temp file and cache update from every program, only the files and folders that the user actually wants to be able to search end up being indexed.
Setting the search indexing options is done in Control Panel, but why bother wasting time finding WHERE in Control Panel it is? Instead, use search!
Windows 7 Search Indexing Options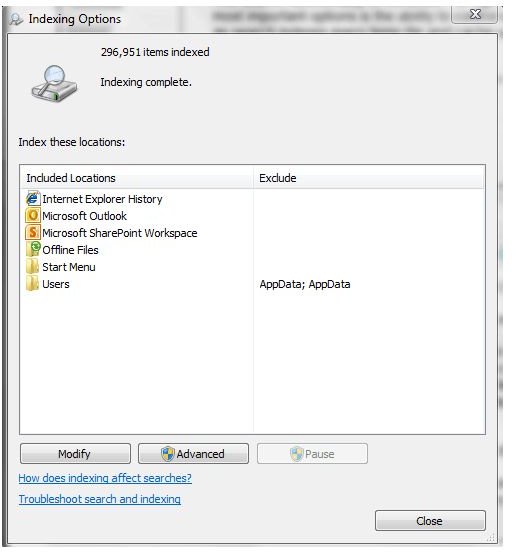 Setting indexing options is easy once you have found the right tool (Thanks, search!).
Go to the start menu and search for "search index options". Click on "Change how Windows searches". The indexing options box will pop up.
Click Modify and then check and uncheck what you want search to index or not. I don't like seeing all my emails in my Windows search results (I'll search inside the email program, but thanks anyway.) so just a quick click and the indexing stops wasting time running inside my email files. Click the Advanced button to get even more control. Under File Types you can set whether to index inside the files (Properties and Contents) or just the "outside" of the file (Properties Only). The latter works a lot like Windows XP search did by allowing searches on name, date, folder, user, and so on.
What if you know where the file you want is, but you just can't find it?
As a freelance writer, that is often my case. There is a document or a note or an image in the folder that has exactly what I want, but I don't remember exactly what it was called. No problem, run search from the box in the upper right hand corner of the Explorer window. Want more specific results, click the Add Search Filter and limit the results by date or size. If the reason you can't find the file is that it has been a long time since you used it, then use my favorite search feature ever! The "A Long Time Ago" search parameter finds those files that you kept because you knew that you might need them someday, when that day finally arrives.
Advanced Search Parameters
What is power search without parameters? All good Google power users know about those extra parameters you can put on your search to help filter out the ever increasing junk out on the Internet that manages to get ranked ahead of the good resources you really want. For example, adding site:gov to your Google searches gets you results that only contain websites that end in .gov.
Windows 7 power users will find some of those same type parameters in Windows search. The syntax is even the same! Some of the available parameters include:
Author:
Size:
Kind:
Datemodified:
Type:
Name:
As you can see, powerful desktop search is now at your fingertips with Windows 7. With flexibility and powerful options, Microsoft is once again king of the whole desktop, including search.