Keep Files Up To Date Using The Windows 7 Sync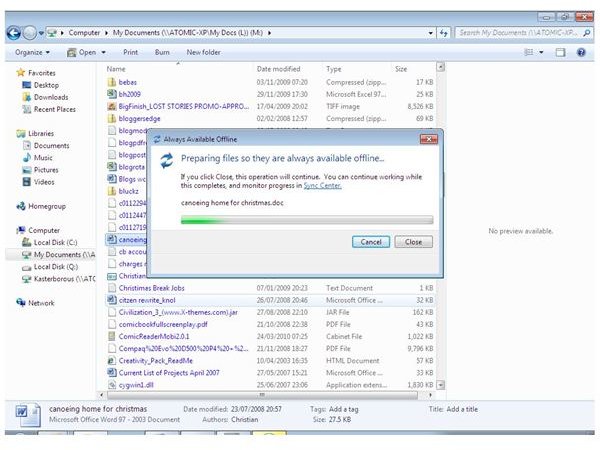 Forget Discs - Use Windows 7 Sync
It can be frustrating to get halfway through a document or work on a particular file only to find that you've got to set off on a journey. While taking a copy with you on disc might be the usual way around this, there are circumstances where this is not possible – for instance the file might be too large for standard storage media, or your laptop might not have a suitable disk reader.
One other way around this would be to email the file to yourself – but what if you don't have a network connection on your laptop, or your file is too large to be emailed?
In cases such as this, you should perhaps consider the Windows 7 sync.
How To Setup a Windows 7 Sync
Windows 7 features an enhanced version of the file sync first introduced in Windows 2000, allowing the user to synchronize files between two computers or a computer and a server.
It is pretty easy to setup – and the results are generally very satisfying.
To setup a Windows 7 sync, Browse to the network directory you wish to synchronise on the computer you wish to take with you.
Next, select the files, folders or the location itself and right-click. From the context menu, choose Always available offline.
Windows 7 will then prepare the file to be available offline, basically syncing it with your laptop. You will be able to find the file offline by browsing as normal to the network location – however this will not be the actual location, rather a virtual, synced version.
Use the Sync Center
To manage your synchronized files, open the Windows 7 Sync Center. This can be accessed by going to Start > Control Panel > All Control Panel Items > Sync Center.
Here, you will be able to View sync partnerships, check problems with the View sync conflicts options, confirm the current status via View sync results and Set up new sync partnerships, as well as Manage offline files.
This last option allows you to specify how much disk space should be allocated to storing offline files.
Beware of Potential Problems
Using Windows 7 sync obviously has its benefits, although it is possible to run into problems. Key among these problems is the impact of working on the same document on both devices and making a conflicting set of changes, as well as running out of space.
To protect a document from splitting off into two completely different forks, you should only work on it from one device.
In terms of space, rather than selecting a specific network drive to be Always available offline, you should instead be choosing folders or files themselves. By doing this you avoid the common problem of synchronizing an entire network drive to your PC or laptop, which can seriously impact your computer's performance.
Also ensure that no one else is planning on working on the server-based file while you're busy updating it on your notebook - this will cause problems when you reconnect to the network and the files update with the original version on the network drive.