Why Is The Windows 7 File System Different?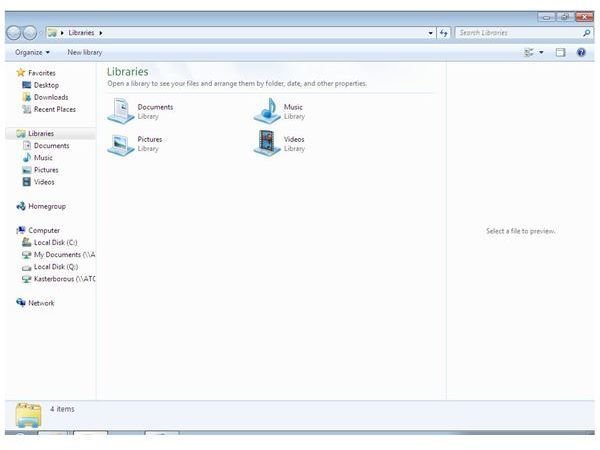 Does Windows 7 use a new File System?
For several years Microsoft have been developing a new file system which they believe will revolutionize how we interact with files and folders on PCs and laptops.
WinFS (Windows Future Storage) is the result of these developments, and by incorporating it into one of their flagship operating systems, Microsoft would be able to completely change expectations and user interaction with one of its biggest releases.
No doubt this explains the changes to the file system between Windows XP and Windows Vista or Windows 7, right?
Actually, no. Windows Future Storage at the moment has no release date. Windows Vista and 7 still use the NTFS system of file management that has been in use since the release of Windows 2000.
Navigating the Windows 7 File System
So why is getting around the Windows 7 file system (and indeed Windows Vista) so different than navigating around Windows XP?
The reason for this is Libraries. These are shell folders – folders designed to display specific content rather than actual content – allowing the user to get immediate access to a particular type of data.
When opening Windows Explorer in Windows 7, the left-hand pane will display a list of locations, including Libraries. Within this section are Documents, Music, Pictures and Videos. Any content that you save will immediately take you to the Libraries folder in the Save as… dialogue box, and any images or media clips you download from web pages will also take you to the Libraries folder initially (of course you can choose to save elsewhere).
What all of this basically means is that the Windows 7 file system is no different than Windows XP – it simply has an enhanced interface to assist the user in managing his or her data more effectively.
Windows Future Storage
So, what about Windows Future Storage?
The intention was that Microsoft would introduce WinFS with Windows Vista; however, this failed to happen. Problems with Vista and the subsequent release of Windows 7 (which isn't a full release of Windows, more of an interim release to resolve issues with Vista) have had the effect of pushing back the release of WinFS even further.
Should WinFS ever be introduced, it will mean that users interact with their data and documents in a completely new way. As it is based on relational databases, Windows Future Storage can effectively display any type of data in any situation. This is done by applying a set of tags to any data that you create; some of these will be assigned by the OS, such as the data of creation, the filetype and the creator, but others can be designated.
Windows Future Storage (or a future version of it) is likely to be part of Windows at some stage in the future – but for now, we're still using NTFS.