Windows 7 DVD AutoPlay - Enabling and Disabling AutoPlay for DVDs and Movies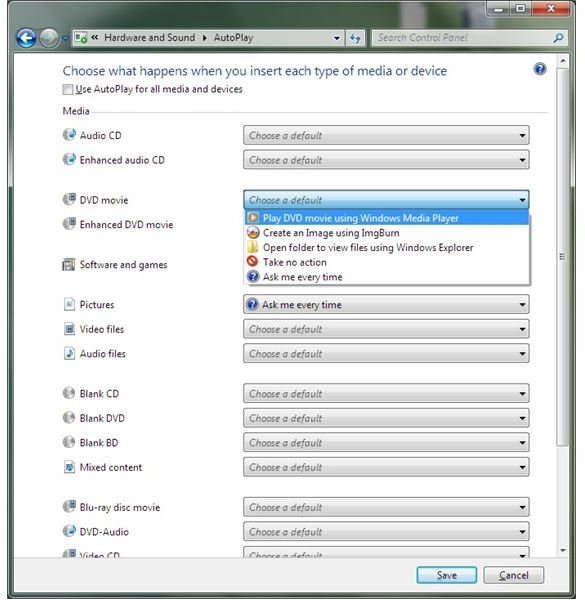 What is AutoPlay?
AutoPlay is a feature in recent versions of Microsoft Windows that examines the type of media (photos, movies, music, etc.) contained in a CD, DVD, or portable storage device when it is inserted or plugged into a computer. AutoPlay is similar to the AutoRun feature that was introduced in an early version of Microsoft Windows. However, AutoRun relied on a file called autorun.inf to tell the computer what should be done. With AutoPlay, the computer can intelligently decide what to do based upon the types of files on the device. AutoPlay can also read an autorun.inf file and present those options alongside AutoPlay options, if such a file exists. AutoPlay is especially helpful for media such as a DVD movie or DVD audio disc.
Enabling AutoPlay for a DVD Movie
In Windows 7, the settings to control AutoPlay are conveniently located in the same place for all media types. To change AutoPlay settings, first click on the Windows start button (the orb) and navigate to Control Panel. Next, click Hardware and Sound and then AutoPlay.
Listed in the AutoPlay settings window are a number of options and controls for various types of media that can be inserted into your computer. For a DVD, Windows can take a number of actions depending upon your own preference. Additionally, those actions can vary depending upon what type of DVD has been inserted and what media is prevalent on the DVD. By default, Windows 7 will alert you that removable media, such as a DVD, has been attached and the current options that are available.
Assuming you wanted to automatically open Windows Media Player and play the movie whenever you inserted a DVD movie disc, you could click on the down arrow next to the DVD movie label and choose Play DVD movie using Windows Media Player. If you have other media players installed, they will likely appear here as well.
Note: If "Use Autoplay for all media and devices" is not ticked at the top of the AutoPlay settings Window, then the AutoPlay window will not appear for media types that do not have an action specified (other than "Take no action" or "Choose a default").
AutoPlay for Other DVD Media
Windows 7 can recognize other types of DVD media. If you have a DVD containing mostly audio, for instance, that DVD can be set to its own setting independent of the DVD movie setting by changing the option next to DVD-Audio in the AutoPlay settings window. An Enhanced DVD movie, one which has interactive content in addition to the movie or video itself, can be set to play the enhanced content by default for instance.
Other DVD types, such as games and software that are sold on a DVD-ROM instead of a CD-ROM, are controlled separately from DVDs altogether. Settings for DVD-ROMs that contain game or software media can be changed next to Software and games in the AutoPlay settings window.
If you wish to burn a DVD, you can change the setting corresponding to Blank DVD and select the software of your choice.