Guide to Windows 7 Autoplay Not Working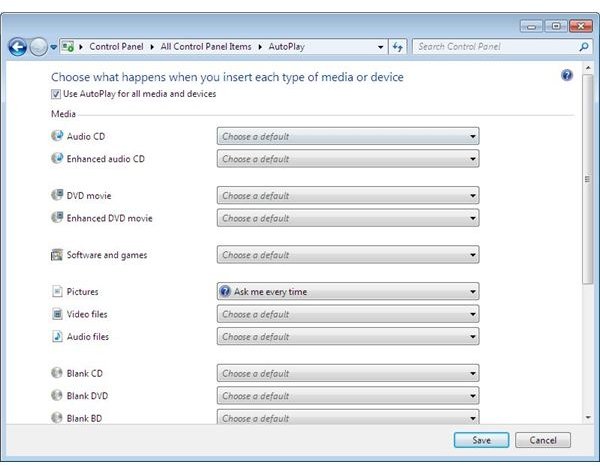 Advantages of Autoplay
Autoplay is a great feature in Windows, one which prompts the operating system to scan newly inserted or connected media for files, particularly MP3 and video files.
While Autoplay has been around since Windows XP, Windows 7 features a more enhanced version which checks the media faster and displays a greater set of options, such as Import pictures and videos.
Such options are great time saving options and can save a lot of time browsing through a disk to find the required file.
Unfortunately, there are a couple of situations in Windows 7 where Autoplay can stop working correctly. These situations can be resolved, using the Autoplay options in the Windows 7 Control Panel.
Fixing Autoplay in Windows 7
To resolve issues with Autoplay in Windows 7, follow thesesteps.
Go to Start > Control Panel
Click the arrow in the address bar, and select All Control Panel Items. Autoplay is listed here – click on it to open the options.
At the top of this screen, you will see that Autoplay can be activated or all media and devices by checking the Use Autoplay for all media and devices box.
You can disable Autoplay by clearing this checkbox. In order to resolve problems where Autoplay is failing, it is advisable to clear the checkbox and reboot your PC. If the issue persists at this stage you can continue by disabling Autoplay for individual media types.
Each of the media types listed in the Autoplay screen can be set to run or import, depending on the type. To troubleshoot this issue, you will need to confirm the checkbox to Use Autoplay for all media and devices is cleared, and then manually activate each in turn.
Windows 7 Autoplay Not Working in 64 Bit
Unfortunately if the above steps bear no results, Windows 7 64 bit users will be unable to resolve this issue if they are attempting to get Autoplay to run with Adobe Bridge CS4. There has been a longstanding reliability issue with these systems working in conjunction that goes back to Windows Vista, and neither Microsoft nor Adobe have released a definitive fix for this.
The reason for this lack of functionality is down to a compatibility issue between the 64 bit version of the operating system and Adobe Bridge. The only consistent method of resolving this problem is by running Adobe Bridge CS4 in compatibility mode.
Compatibility Mode can be initiated by right-clicking the program shortcut, choosing Properties in the context menu and selecting Compatibility tab. From here, choose a suitable option, and click Apply to confirm the change.
Beyond this, you might consider running the Microsoft Fix It tool (windows.microsoft.com) designed to resolve issues with USB devices, which will help resolve problems with media connecting to your PC via a USB connection.