Converting OpenOffice to Word - Saving OpenOffice Documents in MS Word Format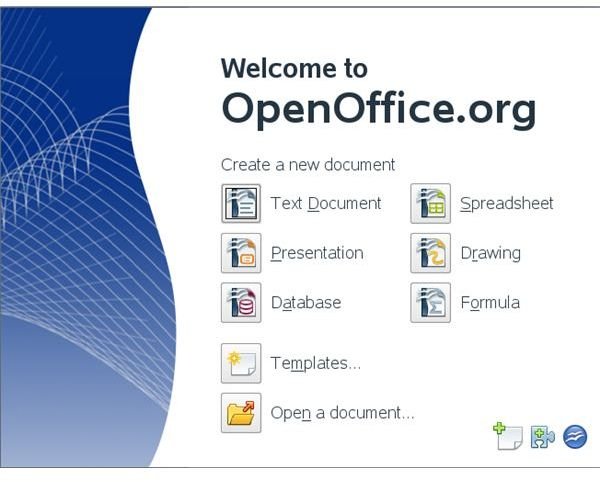 Introduction to OpenOffice
OpenOffice (also referred to as OpenOffice.org) is an open source software suite with many different components. It's available for a wide range of operating systems including Windows, Solaris, Linux, and even Macintosh. There are hundreds of contributors and supporters for the software making it one of the most popular downloaded programs available on the Internet.
It started out as Star Office, a program produced by StarDivision. That company was bought by Sun Microsystems (the maker of the Solaris operating system). In the year 2000, the source code was released in hopes of adding more contributors. Sun Microsystems wanted to reduce the market share of the popular office suite Microsoft Office by offering people a free alternative to that software. Today OpenOffice is still a very popular Office alternative that many people use.
What Does It Offer?
The layout offered by OpenOffice is quite similar to that of some older versions of Microsoft Office (Prior to Microsoft Office 2003).
The program currently offers presentation software, word processing software, drawing software, database software, spreadsheet software, and formula software.
All of these programs feature the ability to save their files in many different formats. They also offer plenty of features that are commonly found in Microsoft Office such as exporting to PDF format, importing other files (like pictures), and even inserting tables directly into the document. Sun wasn't kidding when they said they wanted to reduce Microsoft's market share by offering a free alternative.
What's the Catch?
If you're expecting a hidden fee or some form of advertisement you'll be relieved to know there isn't any such thing within this program. The software is known as "open source" which means anyone can download, modify, and redistribute it without any worry of copyright infringement. The makers want users to download and use the software for free. There are no annoying ads that are involved with this software either, so you can treat it like any other program you paid for.
Pros and Cons
Anytime you're looking at potential software to use, you have to consider pros and cons. OpenOffice definitely has plenty of good things to choose from. It offers compatibility with Microsoft's programs, the layout isn't that difficult to use, and above all else, it's free. That being said, it does have one distinct disadvantage. Microsoft Office 2007 created a new format known as ".Docx." Though there is some compatibility with this format in that OpenOffice will open the file and read it, it will not save in this format making exporting to .Docx impossible. This isn't just for the Writer application, none of the OpenOffice programs will export to the .Docx format.
How Do You Save in Open Office?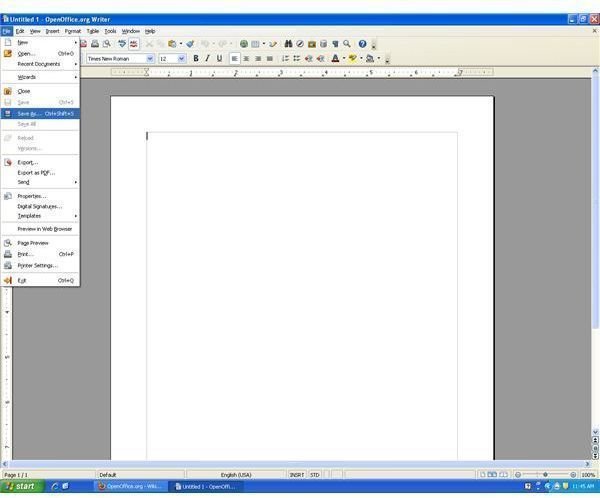 Saving isn't that hard. It is a fairly easy thing to do. As indicated in the screenshot to the left (please note that even though the screenshot is clearly a screenshot of the Windows XP operating system, the process to save a document is the same on any of the version of OpenOffice on any operating system whether it's Windows, Solaris, Macintosh, or Linux) you simply need to click on "File".
After that you select "Save as" from the menu that appears and a save as dialog box will open up. Then, you simply choose where you want to save the document and what you want to name it, then you click "Save." The document is then saved to the location you specified and under the name you chose, all in a simple operation involving just a few clicks of the mouse.
Saving to the Word Format
Microsoft Word's format (prior to Microsoft Office 2007) is ".Doc," so naturally, you'll have to save the OpenOffice document in this format for it to be recognized and opened in Microsoft Office. Saving the document in this format involves the same steps as saving in the native Open Office format. You click on "File > Save as," and wait for the save as dialog box to open up. In this box though you'll click the drop down menu next to the words "Save as type" and select "Microsoft Word 98/2000/XP (.doc)". Then, you'll name your file and choose where you want to save it like normal.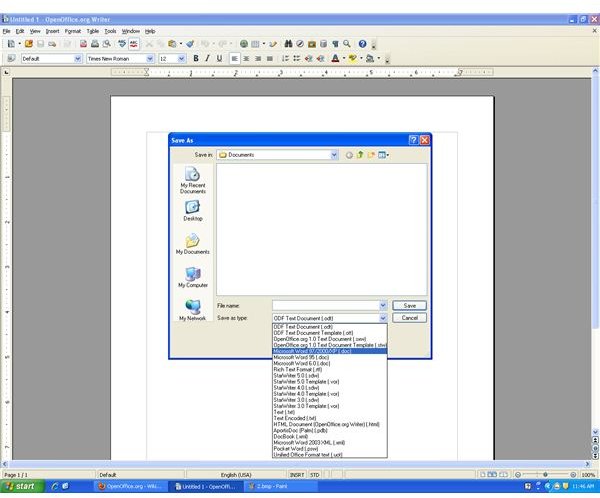 Older Microsoft Office Versions
If you're dealing with a version of Microsoft Office prior to the release of Microsoft Office 98, there is an option for that as well. It is true that Microsoft released a version of it's office suite in 1995, so there is a Microsoft Office 95. If you want your document to be compatible with that version of Microsoft Office, you'll just have to select "Microsoft Word 95 (.doc)" from the drop down menu in the save as dialog box. There is even an option to save your document and have compatibility with Microsoft Office 6.0. You just need to select "Microsoft Office 6.0 (.doc)" from the drop down menu.