How to Display Missing Images in Outlook Messages / Thunderbird Messages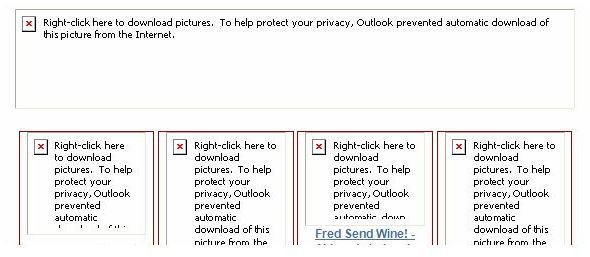 Why Are There Missing Images in the Mail Body?
Why are there missing images in an e-mail's body? There can be several reasons for that:
The message is in fact a malicious message that wants to direct your browser to a malicious web site.
The message is a spam message and it forces you to download the images, thereby verifying that your e-mail address is an actively used address.
The links to the images are broken. For example, the mail sender included an image link such as https://www.example.com/photo.jpg to the e-mail body. But either he mistyped the address or the photo.jpg no longer exists on the www.example.com website.
So, the main concerns of e-mail clients are security and privacy issues.
Should I Block or Allow Displaying Images in Mail Body?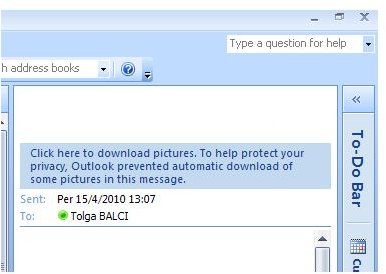 The answer is really "it depends." It depends on you, knowing the sender of the message or not. If you do not know the sender, do not allow your mail client to download and display images. If you know the sender, you can display the images. This is a simple rule of thumb.
Many websites on the Internet advise you to turn on automatic downloading of pictures in HTML e-mails for a permanent solution. Frankly, I don't agree with them – turning on automatic display of HTML messages (whether in Outlook messages or Thunderbird messages) exposes you to additional risks. It's wiser to manually select displaying those cute kitty images rather than exposing yourself to various HTML attacks.
How to Allow Displaying Images in Outlook Messages/Thunderbird Messages?
You can allow automatic displaying of missing images in your e-mail client. How to do that depends on which e-mail client you are using. Following is a list of commonly used e-mail clients and how to enable displaying missing images in Outlook messages and Thunderbird messages:
Outlook 2003: Go to Tools -> Options -> Switch to Security and under "Download pictures" title, uncheck "Don't download pictures or other content automatically in HTML email."
Outlook 2007: Go to Tools -> Trust Center -> Select Automatic Download. Uncheck "Don't download pictures automatically in HTML e-mail messages or RSS items" box.
Outlook 2010: Go to File -> Options -> Select Trust Center on the left pane. On the right pane select "Trust Center Settings" and tick the options according to your preferences.
Thunderbird: There are two steps. If you see your Thunderbird client displaying codes with links in the message body and the fonts are different than what you expect, then go to View, select "Message Body As" and select Original HTML. If you see your messages normally but only the images are missing, then go to View and select "Display Attachments Inline."
There is yet another point that deserves mention. For the senders who you know and trust, you can turn on displaying missing images in your e-mail client automatically for only those senders and block the feature for everyone else:
Outlook 2003: Go to Tools -> Options -> Preferences -> E-mail and click "Junk Mail." Click "Safe Senders" and click "Add." Enter the name or address you want to add in the "Enter an e-mail address or Internet domain name to be added to the list" box. If you want to mark people in your contact list as safe senders, check the "Also trust e-mail from my Contacts" box. (Internet domain name is practically the part after the @ sign. For example, the Internet domain name for

[email protected]

is something.net.)
Outlook 2007: Go to Tools -> Options -> Preferences and click the "Junk E-mail" button. Click the "Safe Senders" tab and click the "Add" button. Add the e-mail address or the domain name (such as gmail.com) in the opened window.
Outlook 2010: Switch to the Home tab, click on Junk and select "Junk E-Mail Options." Switch to "Safe Senders" tab and add the e-mail addresses or e-mail domains (Internet domain names) to the list (Outlook 2010 requires you to add the Internet domain name with the @ sign.) Check the "Also trust e-mail from my Contacts" and "Automatically add people I e-mail to the Safe Senders List" boxes.
Thunderbird: Thunderbird does not have an allowed sender list that exists in Outlook. Instead, it has Black and White Lists and the contacts in your address book are automatically placed on the White List.
References
Article: Author's own experience
Screenshots: Author's own