Finding and Using Microsoft Clipart Online
Finding and Using Clip Art
Creating your own documents and presentations usually requires the addition of images in order to produce a more visually pleasing end product.
There are many ways to get images into your documents, from utilizing images included within templates to finding images on the web or even grabbing something via a scanner.
Microsoft clipart is another way – available both online and via Microsoft Word and other Office applications, clipart can be browsed and imported into documents and PowerPoint presentations to provide a polished, professional visual enhancement to the document.
This article introduces you to accessing Microsoft clipart online, where an immense selection of clipart can be found and used in your documents.
How to Access Microsoft Clipart Online
Accessible via most Microsoft Office applications (in Word 2007 go to Insert > Clip Art), clipart can also be viewed online at office.microsoft.com where over 150,000 images and sounds are available. This page can also be accessed via the Clip Art sidebar in Microsoft Word.
This site also offers "featured collections", a clip of the day, tips for using clipart effectively as well as a comprehensive search function and a browsable list of the most commonly used categories.
Although browsing Microsoft clipart online is easier than using the clip art function in Word, downloading is more complicated.
To download an image, tick the box beneath it – a section called Selection Basket will appear on the webpage, informing you how many items are selected and what the download size is, as well as providing a link to download the item. Once this has been done, the item is available from the Microsoft Clip Organizer, a tool installed as part of Microsoft Office.
Benefits of Clipart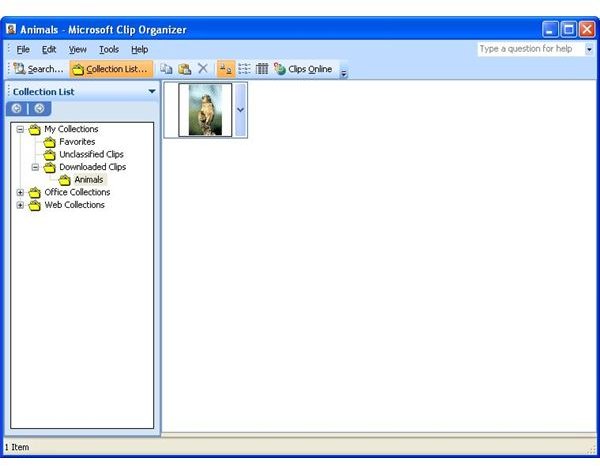 The use of clipart in Microsoft documents is widespread – after all, it is a popular method of providing an interesting graphical illustration to accompany the contents of your Word document or presentation. Many such documents have benefited from the effective images that come as part of Microsoft's clipart library.
While the most common uses of clipart are in Word, Publisher and PowerPoint, the images can with a little adjustment also be used in Excel and Access applications.
One of the main benefits of Microsoft clipart is the format – the vector-based WMF (Windows Metafile) file type is used, which offers an image that is scalable and much smaller than the JPEG or GIF version.
An alternative to browsing Microsoft clipart online is to use the Open ClipArt Library – this also supplies vector-based images that can easily be resized to fit your document.