Windows 7 Aero Peek Not Working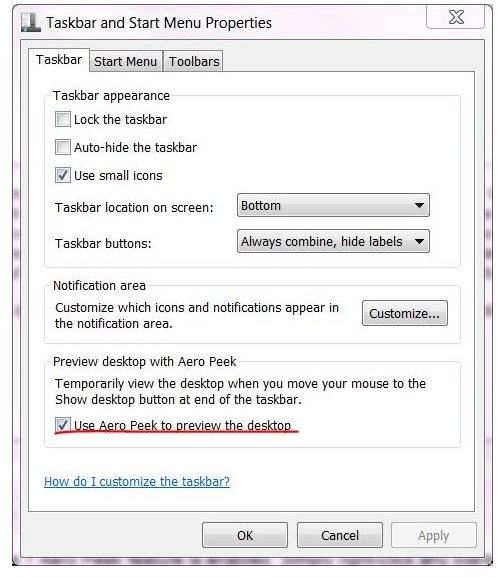 Using Aero Peek
Aero Peek is a Windows 7 feature that allows you to "peek" past your current open Window to the desktop or to other windows of applications you have open. To use Aero Peek to view your desktop, point to (but don't click) the small, transparent rectangle at the right end of the Windows 7 taskbar, which is the Show Desktop button. All of your currently opened windows will become transparent, allowing you to view your desktop. You can also use the keyboard shortcut Windows Key + Spacebar to use Aero Peek and view your desktop. Press and hold the Windows Key and then click the Spacebar. Release the Windows Key to return to your previous view. Similarly, if you point to the Jump List icon of an open application, you will get a peek at a smaller version of that window.
If you cannot get Aero Peek to work, the first step you should take is to make sure the feature is enabled. If it still doesn't work, you can troubleshoot why Windows 7 Aero Peek is not working.
Enable Aero Peek
It is easy to make sure the Windows 7 Aero Peek feature is enabled. Simply right-click any blank area of the taskbar and select Properties. If your taskbar is loaded with icons, you can also right-click the Start button and select Properties. Make sure you are on the Taskbar tab of the Taskbar and Start Menu Properties dialog box.
In the Preview Desktop with Aero Peek section, make sure that the Use Aero Peek to Preview Desktop check box is selected. If not, click the check box to select it and click OK to apply the change.
Another way to turn on Aero Peek is to right-click the Show Desktop button at the right end of the taskbar. If Peek at Desktop does not have a check mark beside it, click it to select it.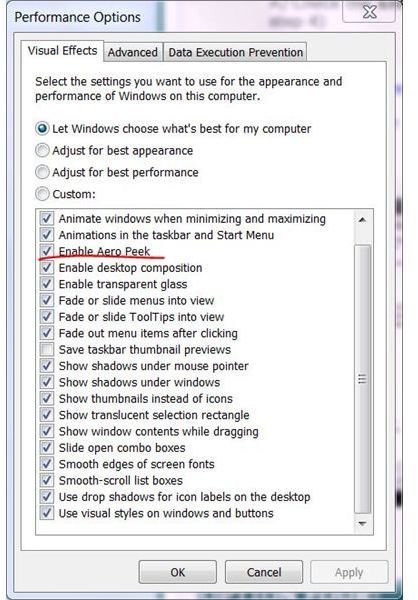 Finally, you can check and enable Aero Peek through Windows 7 Visual Effects. Click the Start button and type performance into the Instant Search box at the bottom of the Start menu. Select Performance Information and Tools from the search results. Click on Advanced Tools in the left pane of the Performance Information and Tools window. Click Adjust the Appearance and Performance of Windows. The Performance Options dialog box will open. Go to the Visual Effects tab and make sure Enable Aero Peek is selected.
Troubleshoot Aero Peek
If you are trying to troubleshoot why Windows 7 Aero Peek isn't working, it is best to start with some simple yet often overlooked possibilities. The first is to check and see what version of Windows 7 you are using. Aero Peek is available in Windows 7 Home Premium, Professional, Ultimate, and Enterprise editions. To find out what version you are using, click the Start button, right-click Computer and select Properties. The version will be listed under Windows Edition. If you are using Windows 7 Home Basic, for example, you will not be able to use Aero Peek.
Another consideration is the desktop theme you have applied. If you are not using an Aero theme, Aero Peek will not work. To find out, right-click any blank area of your desktop and select Personalize. If one of the Basic and High Contrast themes is selected, click on an option under Aero Themes instead. This should resolve the problem instantly.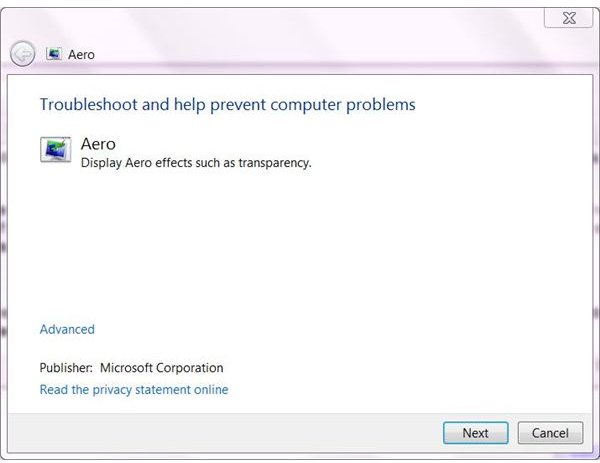 Finally, you can let Windows 7 find and resolve the problem for you. Click the Start button and type aero into the Instant Search box. Select Find and Fix Problems with Transparency and Other Visual Effects to open the Aero Troubleshooter. Click Advanced so that Windows will automatically fix any problems it finds, and then click Next to start the wizard. Wait while the wizard checks for and repairs any problems it detects.
If Windows is able to detect and fix any problems detected, the window borders will be translucent. If not, or if you want to see the details of the scan, click View Detailed Information. The report provided will show you what was fixed and give you details on other problems that could not be fixed, so that you can take steps to repair them.
Related Articles
For more help and information on Windows 7, read the Bright Hub articles The Difference Between Windows XP and Windows 7, Introduction to the Windows 7 Taskbar and What are the Pros and Cons of Upgrading to Windows 7?