How to Reinstall Windows Defender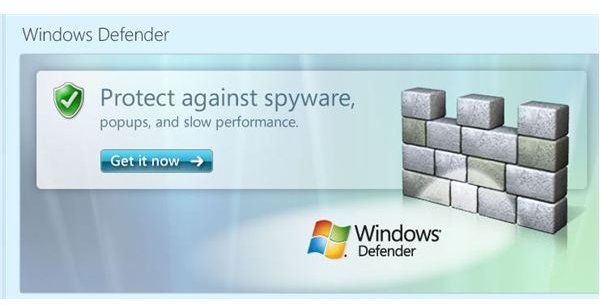 Overview
There are a number of reasons why Windows Defender may not start. Obviously, if you intentionally uninstalled the application you will need to reinstall Windows Defender in order to use it. If it will not start in Windows Vista or Windows 7, however, it is likely that you or another user on your computer disabled it. Enabling it again will allow you to use the security software. Learn how to reinstall Windows Defender in XP or enable it in Vista or Windows 7.
Reinstall Windows Defender in XP
If you uninstalled Windows Defender from your XP computer because it was problematic or simply because you did not want to use it, you can easily reinstall it once more should you choose to do so.
To begin, visit the Windows Defender Home Page and click the Get it Now button. This will direct you to the Download page for Windows Defender, where you can read an overview of the software, learn about system requirements and view other details. When you are ready to reinstall Windows Defender, click the Download button. Follow the on-screen prompts to reinstall Windows Defender.
Troubleshoot Windows Defender in Vista or Windows 7
If you try to start Windows Defender but are unable to do so, or you would like it to start automatically when you log on to Windows, the first place to check is within Windows Defender itself.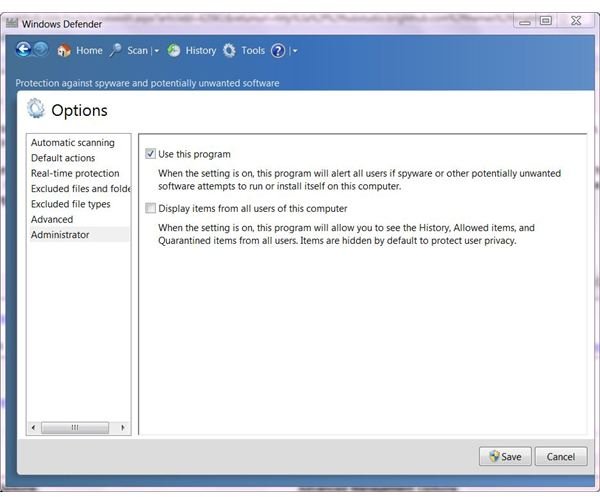 Click the Start button and type defender into the Instant Search box at the bottom of the Start menu. Select Windows Defender from the list of results. Go to the Tools menu of Windows Defender and select Options. Click the Administrator tab on the left. Look to see if the Use this Program check box is selected. If not, click the check box and click the Save button. You should now be able to use Windows Defender. If the check box is already selected, move on to the next troubleshooting step.
The next step to try is to make sure Windows Defender is enabled in Windows Services. To find out, click the Start button and type services into the Instant Search box at the bottom of the Start menu. Select Services from the list of results. Click on Windows Defender in the main section of the Services window. Double-click to open Windows Defender Properties. Select Manual if you want Windows Defender to run when you start it or Automatic for it to run on startup. Click OK to apply the changes and close the open dialogs.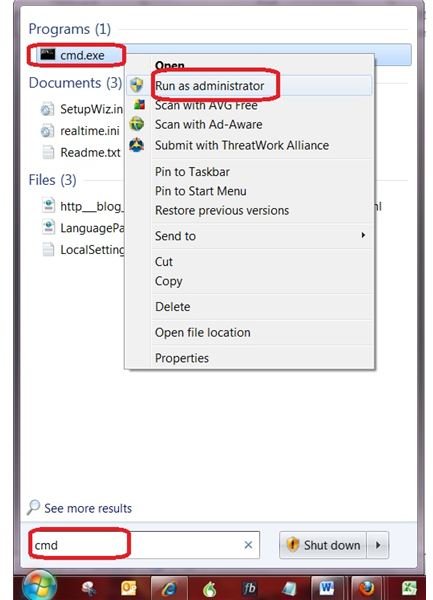 If you are still unable to start Windows Defender, it is likely due to a corrupted WMI repository. Restarting the WMI repository will resolve this problem. Click the Start button and type CMD into the search box. Right-click cmd.ext and select Run as Administrator. Click Yes on the User Account Control prompt, if it appears. Type
winmgmt /verifyrepository into the Command Prompt and press Enter. After it returns a message stating, "WMI repository is not consistent," type winmgmt /salvagerepository and press Enter. If you get an error stating, "winmgmt /salvagerepository is failed," ignore it and run "winmgmt /salvagerepository" one or two more times.
Once it is done performing a consistency check to resolve the problem, close the window, restart your computer and try enabling Windows Defender again.
Related Articles
For more help and information on Windows Defender, read How to Use Windows Defender and Exploring Windows Defender.