The Top 5 Windows 7 Annoyances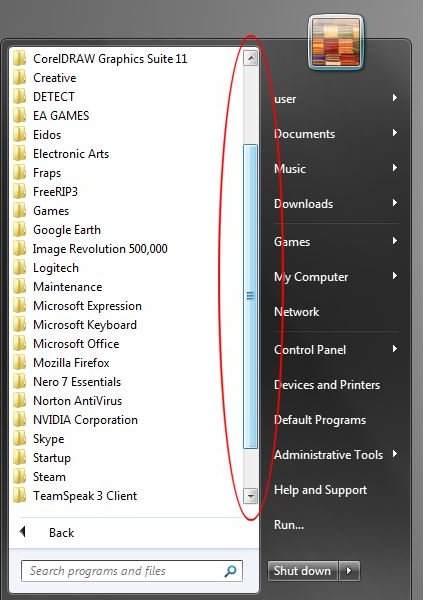 Although much more stable, Windows 7's annoyances range from the mildly irritating to the kind where you want to ask Microsoft, "What were you thinking?" Before you upgrade to Windows 7 and commit to new ways of doing things on your computer, consider these Top 5 Windows 7 annoyances and judge for yourself whether these annoyances are worth it.
1 – Redesigned Start Menu
If you are like many people who have been using Windows XP for a long time, you got used to the fly-out and scroll-out style of navigating your Start Menu. In fact, you also got used to your Start menu being labeled "Start."
The number of shortcuts you can have in the All Programs portion of the Start menu before you must scroll to gain access to all of them is limited. In other words, the Start menu in Windows 7 will only grow so much to accommodate the number of shortcuts you have in All Programs. After that, you must use a scroll bar to see the shortcuts outside of this range.
2 – No Classic Theme
Microsoft introduced the Aero Desktop in Windows Vista and carried it through to Windows 7. Although a visually appealing alternative to previous desktops, some users want the simplest interface possible.
If you used the classic theme in Windows XP, prepare to be disappointed in Windows 7. The classic theme, part of the most popular versions of Windows, is no longer available. Stoic and plain, the classic theme was nonetheless a popular interface configuration for those who want simplicity and none of the frills.
3 – 32-bit vs. 64-bit
There is no doubt that the computing industry is in a transitional period between 32-bit and 64-bit processing and memory management. The result has been a strain on consumers who must make a choice of which operating system to buy.
Granted, choosing the 64-bit version of Windows 7 is safer than when Windows Vista was released. Still, many users buy the 64-bit version and get a few nasty surprises after the upgrade. Some software, hardware and drivers just will not work in a 64-bit environment. After the upgrade is a bad time to find this out. Run Microsoft's upgrade advisor but don't be surprised if it does not catch every incompatibility.
4 – No Sidebar
Introduced in Windows Vista, some users fell in love with having the ability to anchor their gadgets to a special container at the edge of the screen called the sidebar. The sidebar has been removed from Windows 7 so now users must float their gadgets all over the desktop.
However, Windows 7 gadgets do tile nicely on the desktop, snapping to one another and the edge of the screen to create a tidy appearance. Still, they don't disappear from the screen like the Vista sidebar and viewing gadgets in Windows 7, which means you have to remove whatever is blocking your view of them.
5 – No Quick Launch Toolbar
Since Windows 7 introduces us to using Pinning and Jump Lists, Microsoft removed the Quick Launch Toolbar. Although a seemingly mild annoyance, many people are unable to get used to it being gone.
Luckily, there is a way to create your own Quick Launch Toolbar using a few simple steps. Still, if enough people want the Quick Launch Toolbar, it makes you wonder why Microsoft removed it in the first place.
Conclusion
There is no doubt that Windows 7 forces users of previous versions of the operating system to rethink how they get things done. Having used Windows XP for so long, many of the annoyances that would have been mild irritations have actually made people avoid the upgrade for as long as possible. Before you upgrade, consider these Windows 7 annoyances and judge for yourself whether you can live with them.