Using Windows 7 Registry Cleaners to Prevent a Clogged Windows Registry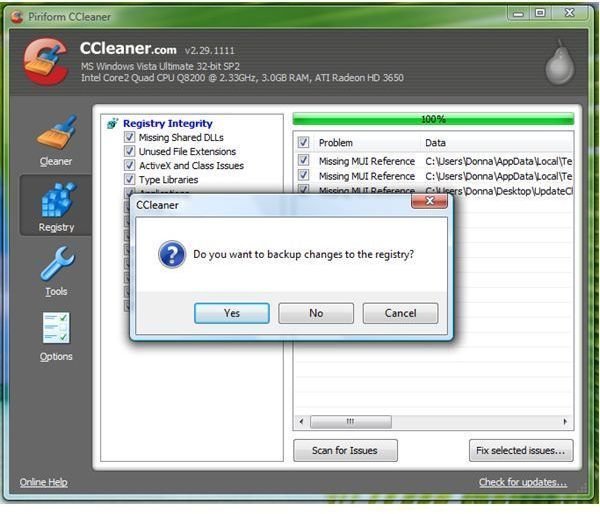 Cleaning the Windows 7 Registry
Like any version of Windows, Windows 7 uses Windows Registry. The registry in Windows 7 is a location on your computer where Windows stores information. The settings in Windows, the applications you opened and many other actions you have performed on your computer are stored in the registry. If you install or remove a program, it will also store registry data.
The Windows Registry can contain invalid and misplaced information. If the registry is clogged, your computer will perform slowly. A PC tune-up or registry cleaning is required to correct this problem. To remove or clean the registry, a registry cleaner is needed. There is no problem with using a registry cleaner, as long as the tool you use is supporting the version of Windows you use, it has a back-up option, and it is not a rogue registry cleaner program. Also, it is important to create a backup of the registry before cleaning-up the registry.
You do not need to clean the Windows 7 registry if you seldom change the settings on your computer and if you don't regularly add and remove programs. It will not hurt to keep a few invalid entries in the Windows Registry. However, a mistake in removing a registry entry can cause trouble instead of fixing a problem. A buggy registry cleaner program can make your computer unbootable so use a registry cleaner only if you understand what are you are doing.
For people who need to clean the registry in Windows, I suggest using only trusted applications or services. There are fake registry programs so be very careful when choosing software. An infected computer might send out fake warnings to clean the computer from spyware or clean the registry.
Below are some registry cleaners that run well in Windows 7 and earlier versions of Windows:
CCleaner – This program is free for personal use. It will clean the computer's unnecessary and temporary files. CCleaner includes a registry cleaner and provides an option to backup the registry before fixing.

PowerTools Lite – This option is from the developer of the popular jv16 PowerTools registry cleaning program. PowerTools Lite is freeware with limited features. Like CCleaner, PowerTools Lite provides a backup feature.

Windows Live OneCare Safety Scanner – This is a free service by Microsoft. It's an online service providing virus and open ports scan, registry cleaning, defrag and disk clean-up. If you use OneCare Safety Scanner, it will create a System Restore point to back up your registry and any changes or deletion by the service. The Windows Live OneCare Safety Scanner runs in Internet Explorer and Firefox. Firefox users will need to install the IETab add-on before you can use this service.
If you would rather back up the Windows Registry using other tools or manually back up the Windows Registry, see the article Backing Up Windows Vista Registry. (The article applies to Windows XP and Window 7 as well.)