Web Page as Wallpaper in Windows 7: Options and Alternatives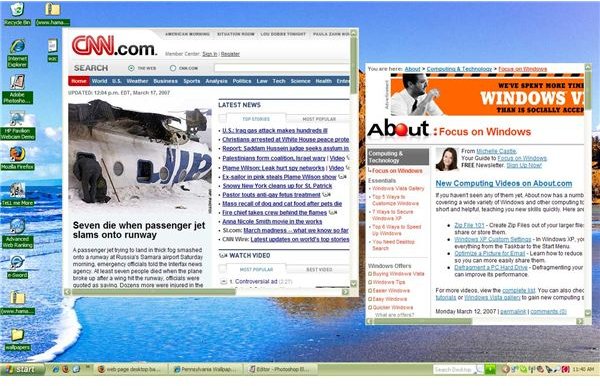 What Are Your Options?
It isn't very often that we here at Bright Hub tell you that you can't do something. Unfortunately, this is one of those times.
In the days of Windows XP and Active Desktop, you used to be able to use a webpage as your desktop wallpaper, which was great for Gmail or Hotmail users or those people who used online time management or calendar systems. You had active links on your desktop which worked just like a standard page, and offered extra interactivity to your system.
However, in Vista and more lately Windows 7, you can't use a web page as wallpaper. Active Desktop was dropped in Vista because it was viewed as a security risk. You used to be able to work around it in Vista by using the Web tab in the Customize Desktop option of the display properties. You can't even do that now if you use Windows 7.
Active Desktop was a mixed blessing in XP. It allowed us to play with our desktop, personalize it, tweak it and do all sorts of things to it. It was also, as already mentioned, a security nightmare. Microsoft spent a lot of time and energy trying to plug holes in it to get it to work, but gave up in the end because there was no sure-fire way to lock it down.
Security restrictions mean that you can only use approved image formats for desktop backgrounds. You can convert your favorite web page into a .jpg, but you won't be able to watch it update or use the links. So if you came here looking to find out how to use a web page as wallpaper in Windows 7, you're in for a disappointment.
I don't like to be negative though, so I have found a little something else as a consolation prize.
I don't know about you, but I change my wallpaper all the time because I get bored with them. I recently found out that I can have my wallpaper dynamically updated via RSS.
A Possible Alternative
A guy by the name of Stephen Edgar created a file that you can download onto your machine that uses AFP photos to rotate desktop images every time the site is updated. This means fresh new eye candy, regularly updated via an RSS feed directly to your desktop. It uses a .theme file which you download from Stephen's site and install onto your system.
The file will automatically link to the AFP site, and offer to download the pictures locally or use them as they appear. As soon as the next image is uploaded to the site, it will be picked up and displayed on your machine.
While this isn't as useful as having a web page on your desktop, it's a cool way of getting different desktop backgrounds with minimal effort. It's also a good way of getting to see pictures that you probably wouldn't normally consider.
Reference
AFP Photos Windows 7 RSS Desktop Wallpaper Themes: https://howto.opml.org/stephen/AFP-Photos-Windows7-RSS-Themes.html
Screenshot by author.